University celebrates Chinese New Year: The Year of the Pig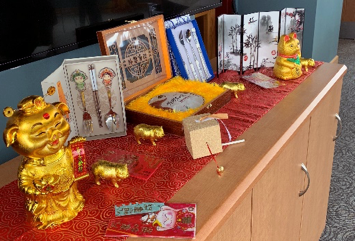 Chinese students at SFU joined their fellow students on Feb. 15 to celebrate the Chinese New Year with conversation and foreign cuisine in Schwab Hall.
"This is their opportunity to share aspects of their culture with the American students," said Ryan Geiger, assistant director of the Office of International Student Programs.
The Chinese New Year is called "Spring Festival" in China. Sweets and dumplings are traditional food items that are eaten during this holiday.
"The best way I can describe it from an American perspective is it's like New Year's meets the Fourth of July," said Geiger.
"In China, they celebrate the Spring Festival for 15 days, and it includes fireworks being launched."
"This year is my junior year," said Chinese student and MIS major Lyucheng Zhang. "I am doing two years in China and two years here because my university in China has a cooperation with SFU."
The Chinese New Year is celebrated on a different day each year between Jan. 21 and Feb. 20. In 2019, it lands on Feb. 5 – this is the start of the Year of the Pig.
This is the third consecutive year that SFU international students honored this holiday with a celebration. It is the longest-celebrated holiday in China.
Chinese students account for the largest group of international students on campus.
'"I would say the biggest thing about Spring Festival is family getting together," said Geiger.
"It's the time to signify the start of the Lunar New Year and wish people luck in the new coming year."
Leave a Comment