Recent Recent Posts Stories
Debate Team competes at Ethics Bowl
December 7, 2018
The Saint Francis Debate Team traveled to Poughkeepsie, New York, on Dec. 1 and competed in the Northeast...
Amplify Church to Visit Campus, Dec. 3
December 3, 2018
A group from Amplify Church in Indiana (Pennsylvania) will visit SFU on Dec. 3. The "RIOT" event...
SFU students share their Christmas favorites
November 28, 2018
With the holidays around the corner, Saint Francis students have Christmas on the brain. How, in the...
Track and field teams open indoor season at Bucknell, Dec. 2
November 28, 2018
The men's and women's track and field teams open their 2018-19 indoor season at the Bison Opener...
Athletic director serving as interim head women's basketball coach
November 28, 2018
Joe Haigh requested and was granted a leave of absence from his role as Saint Francis head women's...

Katie Page, Staff Writer
November 28, 2018 • No Comments
Saint Francis has announced the addition of six new Board of Trustees members, all of whom have started four-year terms this fall. Trustees are tasked with furthering the mission of the University. "A trustee shall, at all times, embrace Franciscan values, be interested in higher education, support...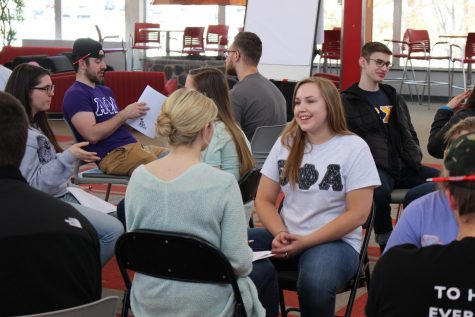 Damian Runk, Staff Writer
November 28, 2018 • No Comments
The Saint Francis Greek Life community will host a Christmas Carnival in the Stokes Center's Auxiliary Gym on Saturday, Dec. 1, to celebrate the holidays. The carnival...
Need advice on any of your college dilemmas?  Email troubadour@francis.edu and check back to see what solution Dear Frankie offers you!
View Page »