Narduzzi, Nguyen Named 2020 Mr. and Ms. Frankie Award Winners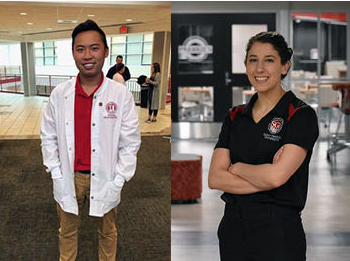 Nursing major Tommy Nguyen and Communications major Teresa Narduzzi were recently named the Mr. and Ms. Frankie award winners for the 2019-20 academic year.
The Mr. and Ms. Frankie candidates are voted on by members of the SFU Senior Class and are students who exemplify scholarship, leadership, achievement and service to the University, as well as to the community.
"Tommy is a nursing major of the highest caliber who went above and beyond in the co-curricular world, especially in Greek Life," said Father Malachi Van Tassell, president of the University.
"Becoming that someone for the young ones will truly inspire the path to the future," said Nguyen. "I plan to obtain my RN and work as a pediatric nurse to fight in the front lines against this pandemic."
Narduzzi was also very active in campus life during her four years at SFU and made a significant impact within student government.
"Teresa was an amazing Student Government Association president, who kept her eyes focused on the Franciscan mission of the university," said Fr. Malachi.
Narduzzi also competed on the Red Flash swimming team during her four years in Loretto.
"It is an incredible honor to have received Ms. Frankie, one of the most prestigious awards from Saint Francis University" said Narduzzi. "It is something I will treasure for the rest of my life."
Finalists for the award were chosen by the senior class, faculty and administration.
"I am so proud of both of them and know that each will be very successful in life," said Fr. Malachi.

More about "Mr. Frankie" Tommy Nguyen:
Hometown: Shamokin, Pennsylvania
QPA: 3.3
Activities and Honors: Alpha Phi Delta Fraternity, SGA, OC, NSLS, extensive community service
More about "Ms. Frankie" Teresa Narduzzi:
Hometown: Basking Ridge, New Jersey
QPA: 3.9
Activities and Honors: Women's swimming team, 2019 Homecoming Queen, former SGA President, Class of 2020 President, founding member of SFU's Chapter of the National Society of Leadership and Success, three leadership certifications, extensive community service
Leave a Comment