Team IMPACT benefits all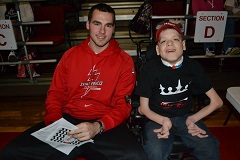 Saint Francis University Athletics teamed up with Team IMPACT this semester.
Team IMPACT is an organization that provides children who suffer from chronicle diseases the opportunity to become a part of a college sports team.
Not only does the child become a part of the athletic team, but the athletic team becomes a part of the child's support team.
Athletics currently has added two children to athletics.  Men's basketball acquired Jorden McClure, and Brent Zierer joined the Red Flash football team.
"I think Team IMPACT is an incredible organization," said Ronnie Drinnon, a member of the men's basketball team. "They are impacting the lives of so many people, and building relationships that will last a lifetime."
Jorden McClure signed a National Letter of Intent at the end of February.
"Speaking on behalf of the basketball team, we are honored to have been selected as a hosting team," said Drinnon. "It is a big deal for us."
The project has greatly impacted all parties past simply helping another person.
"The relationship I built with Jorden is beyond basketball, I treat him like a little brother," said Drinnon. "He is impacting our lives just as much as we are impacting his."
According to Drinnon the team looks at Jorden as a good luck charm. Jorden's first game in uniform led the men's basketball team to a victory.  Drinnon says Jorden is a great teammate.
"He isn't afraid to tell you what he thinks which is the best part," said Drinnon.
Jorden once told the team "believe, do your best, and don't let the other team see you sweat."
The team now knows that they can accomplish a lot if they just believe.
The men's basketball has met up with Jorden a few times off the court since the season has finished, they made a surprise visit to his house in Altoona, attended his birthday party and watched him perform a leading role in his school play.
Jorden is not just a teammate he is also a friend to the men's basketball l team.
"Jorden has changed this team more than he realizes," said Drinnon. "He brought the term 'believe' into our locker room, huddles and minds."
Team IMPACT has 226 schools involved from 35 states and has impacted the lives of 445 kids.