SFU's professor's new book released today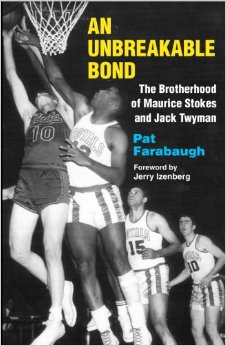 Pat Farabaugh, a basketball junkie, author and assistant communications professor at Saint Francis, has published his second book.  It is titled An Unbreakable Bond: The Brotherhood of Maurice Stokes and Jack Twyman.
He began working on this project in 2010, and the book is now available for pre-order on Amazon. Published by St. Johann Press in Haworth, N.J., it will be released today, March 25.
Farabaugh worked as sports information director at Saint Francis from 1999 to 2005 and is now in his third year on the communications faculty at SFU. The idea to write a book on the story of Stokes and Twyman was formed during his time as the school's SID, but he did not begin working on the project until he completed his doctoral studies at Penn State.
Farabaugh said that the story of Stokes and Twyman is important, tragic and heartwarming and one that needed to be told in book form.
One of the hardest parts about writing the book, he said, was making sure the story was accurate, given the amount of time that has passed since Twyman came to Stokes' aid after Maurice fell in a game in 1958.
"Unfortunately, some of the key players in the story have passed away – people who would have been valuable sources," said Farabaugh.  "Plus, as the years go by, memories fade.  As a historian, you want to do your best to make sure you get it right."
Farabaugh's first book, Carl Mclntire's Crusade Against the Fairness Doctrine, was an outgrowth of his doctoral dissertation and targeted a very specific audience, one interested in U.S. telecommunications policy.  He believes that his new book will appeal to a much wider audience, including those who aren't basketball fans.
"Sure, it's a basketball story, but it is so much more than that," said Farabaugh.  "At its essence, it is the story of two men – one who overcame tremendous challenges and another who embodied selflessness."
Farabaugh is excited and anxious for the release of his book.
"When you write about people, you want to get their story right," he said.
He is also deeply appreciative of all those who helped him along the path toward completion.
"From my family and friends, to my colleagues at Saint Francis and IUP (Farabaugh taught on the journalism faculty at IUP before returning to SFU), to my sources, to the folks working at our library and libraries in Pittsburgh and Rochester and Cincinnati, I owe a great debt of gratitude."
Farabaugh's book coincides with the 60th anniversary of the Red Flash men's basketball team's first National Invitation Tournament appearance (1953-54).  It is dedicated to his stepson, Logan Homerick, and the Rev. Vince Negherbon, who served as Saint Francis president from 1966-72.
"I feel blessed for the opportunity to write this book," said Farabaugh."  So many people were supportive and encouraging and giving of their time throughout the researching and writing process."
To pre-order the book, visit the following link:
An Unbreakable Bond: The Brotherhood of Maurice Stokes and Jack Twyman