Guest chefs travel to Torvian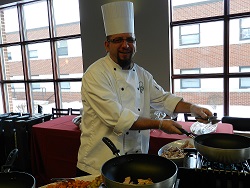 Students at Saint Francis University had a taste of food available at other colleges. The university's main dining hall Torvian introduced its new "Guest Chef Program" on Wednesday, January 22.
"I think it's a great program where we can showcase guest chefs from other accounts within Parkhurst and offer a little twist that keeps our dining services creative and interesting," said the Department Head of Dining Services, Leo Cavanaugh.
The event included three main chefs, including Chef Frank Hummel from Lycoming College and two Saint Francis University Chefs, Executive Sous Chef Jeff Surgent and Armando Balderos.
The program's purpose is to bring chefs from other universities and showcase what they offer at their campus dining halls. This program will also give the chefs of Torvian the opportunity to travel to other universities.
"I feel it is a great program to offer variety to the students," said Hummell. "I particularly enjoy coming to Saint Francis University because of the great dining program. I get to experiment with a new recipe and I always learn something to take back with me to Lycoming College."
The chefs' demos included chicken with caramelized apples, smoked turkey in Thai chili sauce, and rolled mini beef tacos.
"We do our best to keep our dining service exciting and this program certainly helps achieve that," said Cavanaugh. "It makes us feel good to hear the buzz and see the smiles."