Busy Upcoming Spring Break for Many Students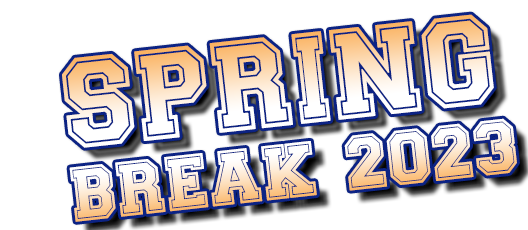 The University's Spring Break is two weeks away. Students and faculty will get a break from classes and schoolwork from March 11-19.
Spring Break is a great time for students to rest and recharge. Many said they plan to visit with friends and family, travel and catch up on sleep or their favorite shows.
Lindsey Slebodnik, a junior Communications major, will spend her break at home in Altoona. She plans on catching up on sleep and hanging out with her family. Lindsey said will also be celebrating her best friend's 21st birthday by throwing her a party.
Senior Lizzie Fisher will be spending her Spring Break traveling with the SFU lacrosse team. Fisher and her teammates will travel to Ohio to play against Kent State on March 10 before flying to Florida to play at Stetson on March 14.
While in Florida, the team will visit a waterpark and the beach. They will also enjoy a family dinner at a teammate's home in Orlando.
Junior Communications major and SFU tennis player Dominique Yeo will also be traveling and competing with her teammates over the break. Yeo and her team will visit Hilton Head, South Carolina.
While in Hilton Head, the team will compete in three matches against George Mason, Lafayette and Saint Louis.
Junior water polo player Emese Szucs will be traveling with her team to San Diego and Los Angeles. While in California, Szucs and her teammates will compete in 10 matches over nine days.
Szucs' family will be joining her in California. They will travel from her home in Budapest, Hungary, to the United States for the first time.
Szucs, who will celebrate her 21st birthday over the break, is looking forward to visiting Universal Studios Hollywood with her family on the trip.
Tina Hildebrand, an Early-Education Major, will visit the Smoky Mountains in Tennessee during her break from classes. She will be traveling with her boyfriend and they plan to do some camping and enjoy the outdoors.
Jaylee Sikora – a junior on the Red Flash women's golf team – will be spending her Spring Break in Daytona, Florida. Sikora and her teammates will be competing in multiple tournaments in the Sunshine State.
Sikora said she is most excited about seeing her grandparents while her team is in Daytona. She has not seen them for a few months.
Pre-Med Biology Major Lexi Matts will be traveling home to Punxsutawney and spending most of her spring break working as a caregiver at a local nursing home. Matts will also be celebrating her cousin's fiance's bachelorette party in Pittsburgh.
Leave a Comment