Phi Delta Kappa to Host Charity Golf Tournament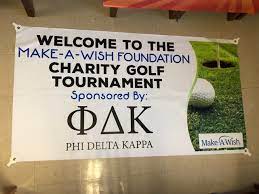 The annual Phi Delta Kappa Sorority charity golf tournament will take place on Oct. 2. The event will be held at Immergrun Golf Course.
The tournament will be a scramble format and consist of teams that will battle for $100 in gift cards.
The golf tournament is sponsored by Make-A-Wish Foundation.
"We are very excited about putting on this event," said Jenna Sabia, a junior member of Phi Delta Kappa.
Immergrun officials have generously allowed the Kappies to conduct their annual golf tournament at the course.
"It will be nice to just go out and enjoy the fresh air," said Christian Kline, a student who will be competing in the tournament. "Hopefully, there should be some good competition out there.
"I'm excited to get back out in a competitive setting and raise some money for a good cause."
Junior Dan Weimer also sees the tournament as an opportunity to help a good cause and enjoy being with friends.
"I have lots of friends who golf. Most of them are good and some are not," said Weimer. "I am excited to just go out there and try to contribute to the team as much as I can."
The golf tournament has been gaining some traction across campus each year, with the number of people signing up continuing to grow.
"The excitement is growing and we are so excited and blessed to be able to continue to put on our golf tournament and raise money for a great cause," said Sabia.
Leave a Comment