Finals Survival Tips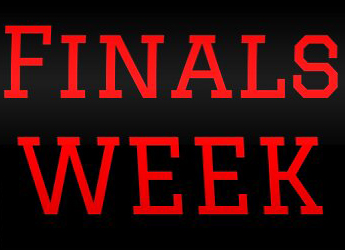 With the spring semester quickly winding down and the end finally in sight after a long, hectic academic year, students have one more hurdle to clear before they can truly relax – finals.
To help alleviate stress and hopefully lessen any anxiety you may be experiencing, here are four tips from current students to help get you over the last hurdle and through finals with as little stress as possible.
Tip 1: Study Somewhere Other Than Your Dorm
"It is important to study somewhere other than your dorm because a change of scenery could help increase productivity and improve focus," said Hunter Longenecker, a junior MIS and Marketing double-major.
"It is also healthy to separate your study and workspace from your sleeping and relaxation space."
Tip 2: Make Flashcards, Write Notes by Hand, Quiz Yourself
"I think notecards and auditory learning are two very helpful study tips, depending on what type of learner someone is," said Gillian Elliott, a senior Exercise Physiology major. "Writing information out makes your brain work a little harder and it is more likely for the information to be retained.
"I think it is important for students to figure out what type of learner they are in order to effectively study and retain the information, even after the exam."
Tip 3: Study With a Small Group of Friends, Peers or Classmates
"I think that studying in groups can be effective," said Longenecker. "Study in a group when you are not sure about the content you are studying and need help with answers or understanding the content.
"Having a group that can explain it to you will ensure you are studying the correct content and understand the material."
Tip 4: Know When to Take a Break
"We get into the mindset that we have to study 24/7, even though we already know the majority of the information," said Elliott. "Taking breaks is so important for our mental and physical health, as prolonged stress starts deteriorating our body and mind, and burnout often results."
Longenecker agrees.
"Once you reach a point that you are no longer retaining information or are getting increasingly frustrated, it is important to take a break," he said.
"Some healthy ways to take a quick break are to go on a short walk, eat a healthy snack, or talk to a friend."
Leave a Comment