Possible Changes to Laptop Program Discussed at SGA Meeting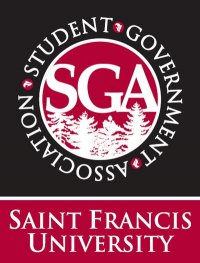 The Student Government Association met on Feb. 4 for its second meeting of the semester. 
SGA members discussed the Student Laptop Program, the dress code for the DiSepio Fitness Center, and the American Sign Language program. 
Changes that could be made to the Student Laptop Program at the University was the first topic of the meeting. When a student enrolls at Saint Francis, he or she is provided a laptop from the school, but this could change in the fall. 
SFU's Chief Information Officer Jason Nairn, who attended the meeting via Zoom, told SGA members that the school is considering making the laptop program optional.
"There needs to be more flexibility within the program," said Nairn. 
An SGA member noted that not every student works best in his or her field of study with the specific laptop provided. 
If a new policy is approved, students will be able to choose whether or not they would like to participate, or bring their own laptop to campus instead. 
The University's Help Desk will still provide IT service to those who opt-out of any new laptop program. 
The next topic discussed was the dress code in the DiSepio Fitness Center. It is currently required that all people using the facility wear a T-shirt. 
"It is not in effect for physical appearance purposes, but for health safety," said Senator Gillian Elliot, who noted that the policy helps prevent the spread of MRSA, which is highly contagious, especially in gym settings.
Lastly, the senate discussed the ASL program. The Senate talked about adding more on-campus ASL events and discussed the idea of having interpreters at other campus events.
Leave a Comment