Multicultural Festival 2020: Uplift Voices in Our Community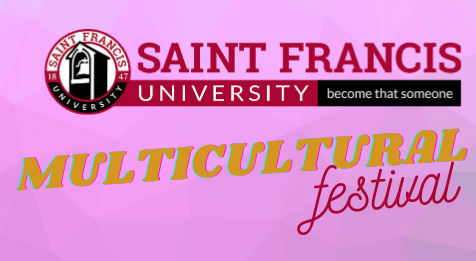 SFU'S annual Multicultural Festival has returned for its eighth year in 2020. The theme for this year's festival is to "uplift voices in our community," both on campus and in the wider world.
The event was originally intended to be a week-long and in-person event. Due to COVID-19, however, festival planners moved it to a virtual format. The event has also been extended and is now a month-long event.
The festival's first Zoom gathering was on Oct. 7 for an event titled "Arts & Civil Rights." Since then, there have been one to two virtual gatherings each week on various topics.
Originally, the event was meant to connect people from different ethnicities in order for them to learn more about each other's cultures. This year, the committee has sought to connect people to one another beyond ethnicity; groups of all different statuses have been celebrated, including ASL, Peace Corps and LGBTQ.
Rotating displays are featured in the library each week during the festival. A display of books written by African-American authors was featured in the library in the beginning of October.
"It is so important to highlight and show our African-American students and community that we cherish and value them," said Associate Librarian Renee Hoffman.
Other displays include Change-makers in the Community, Dorothy Day, Foreign Currency and displays celebrating different ethnicities including the Indian, Pakistani, Hungarian and Peruvian cultures.
The format for this year's Multicultural Festival is much different than in years past, but organizers and participants have made the most of this year's event.
"We cannot gather, test food, visit booths, have conversations with people, and connect with one another, learning commonalities," said Hoffman.
This year's format, however, has allowed the festival committee to bring in guest speakers virtually who might not have participated otherwise.
Most virtual gathering includes a special guest speaker, including students from SFU. For example, the gathering on Oct. 14 included Carolyn Princes, President of the Indiana County NAACP. Princes was interviewed by Associate Professor of History Lori Woods and student Mahin Shah.
There are three more virtual gatherings left in this year's festival and one in-person event, which will be conducted in the JFK Lounge. More information about the Multicultural Festival can be found at https://www.francis.edu/multicultural-week/.
Leave a Comment