Student Government Association Prepares for Busy Fall Semester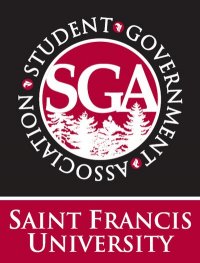 The SGA has a long list of projects entering the fall semester, including a candlelight memorial ceremony, study lounges, longer library hours, bike racks and hydration stations. 
The SGA is planning to hold a candlelight vigil on Sept. 25 at 8 p.m. on the mall in remembrance of Nick Cumer, Alivia Juliana and Bryan Smeltzer, three SFU students who died earlier this year. 
"We wanted the student body to know that the SGA was acknowledging their feelings and emotions," said SGA President Teresa Narduzzi. 
"I felt that the SGA needed to make sure that we did something in order to remember our peers."
SGA is currently looking at and planning to update study-space hours and materials in the residence halls and buildings across campus. At the end of last semester, SGA sent out a study-space survey and received around 300 responses. 
"SGA looked at what students like and what materials they need to study properly," said Narduzzi. 
"We are currently working with Dr. Karan Powell to look at the results and decide what it is that the University needs, such as whiteboards, quiet spaces with no time limit, and extended library hours."
SGA has already worked to extend the library hours for this year. Monday through Thursday, the library is open from 7:30 a.m. to 11 p.m.; Friday from 7:30 a.m. to 9 p.m.; Saturday from noon to 5 p.m.; and Sunday from 1 p.m. to 11 p.m. Hours will be further extended during midterms and finals weeks.
"Going into this term, my three goals were to install speed bumps, bike racks and more hydration stations in all residence halls," said Alex Kiepert, the Chief Senator for Residence Life. 
The speed bumps were installed over the summer and the bike racks project is close to coming to fruition.
"Ten bike racks have been purchased and I am meeting with Physical Plant and Don Miles to figure out where they are going," said Kiepert. 
Kiepert said the University is considering putting hydration stations in the residence halls. 
Narduzzi said she appreciates SGA's relationship with the University administration, especially on the Frankie's Campus Club project.
"Administration was great at incorporating us in the planning of it, even down to the floor plans, carpet and tiles."
Leave a Comment