Third annual FAST FEST raises money, awareness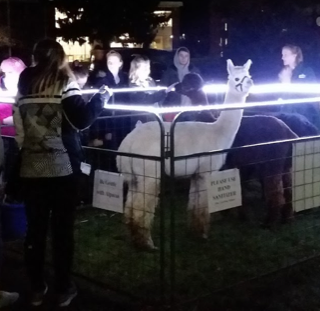 FAST FEST will return to campus for a third consecutive year on Friday.
At the event, people fast to raise money and awareness for the nonprofit organization Engineers in Action. Half of the money raised goes directly to the organization and is used to help coordinate groups of volunteers in Bolivia and Ecuador who work with poor communities.
The other half of the money raised goes to travel costs for SFU students who visit Bolivia for an Engineers in Action project.
The Engineering Department will have alpacas outside the Science Center at this year's FAST FEST. Raffles, games and food will be inside the building on the first floor. The event is CES approved.
Students and faculty fast because Engineers in Action aims to help people who are going hungry and do not have access to clean drinking water.
The alpacas represent Bolivia, one of this country's staple farm animals.
"Helping Engineers in Action help the poorest of the poor makes it all worth it," said Bill Strosnider, an Associate Professor of Engineering.
Strosnider has been participating in the fast for almost 10 years.
This year's event was organized by senior environmental engineering major Ashley Rovder, with the help of sophomore environmental engineering major Kari Lagan.
Rovder stayed in Bolivia for two and half months with a host family. While there, she noticed how much effort her host mom exerted to secure clean drinking water. Water was taken from the tap, boiled, and put through a filter system.
"I think everyone deserves access to clean water," said Rovder. "If I could help one person to have clean water, this event would be a success."
Last year, Saint Francis' FAST FEST raised around $3,200 for Engineers in Action and the Bolivia trip.
"We hope that the FAST FEST helps to educate the rest of the University," said Rachel Wagner, an Associate Professor of Engineering. "This could be of interest, not just to engineers, but to anyone concerned with global, social or environmental causes."
Donations and volunteers are welcome for the fast. Anyone interested in joining the fast can sign up on Friday night.
The fast will be held from 8 p.m. Friday to 8 a.m. Sunday. Participating students and faculty only drink water for 36 hours.
The Bolivia Study Abroad Trip is offered every other year and is open to all SFU students. In previous trips to Bolivia, students have worked for two weeks on a mine water contamination project and a drinking water system design project.
Leave a Comment