SGA Endorses "Timely Feedback Proposal"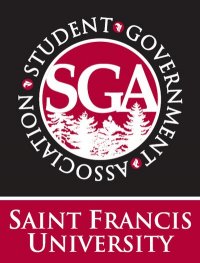 The Student Government Association voted on a proposal on March 3 that would require instructors to give students feedback on submitted work within 14 calendar days.
The "timely feedback proposal" takes inspiration from the Saint Francis University Online Course Review Checklist, which requires faculty to grade assignments for online classes before 14 calendar days pass.
The proposal passed, with each of the Senate's 25 voting members voting in favor of the proposal.
"We recognize all the hard work that our professors put into their classes," said Isaac Johnsen, president of the SGA. "We also understand that their schedules are hectic, which is why the proposal is called the 'timely feedback proposal' and not the 'timely grading proposal.'"
Johnsen said the idea for the proposal came about after several conversations with students, who expressed concerns after not receiving any feedback on assignments, some of which were worth a large part of their grade.
"I had one freshman come to me and tell me that he hasn't had a single assignment graded in his [lab] for eight weeks," said Johnsen. "If you're a freshman, you might not have that relationship with your professor where you can go and talk to them to figure things out."
The feedback proposal asks that faculty complete grading "within seven days of submission or before the next assignment of the same type is due."
While the feedback proposal has been voted on by the SGA, it needs to be approved by the Faculty Senate in order to take effect.
Johnsen said he is optimistic that the feedback proposal will be approved, noting it has been well-received by many faculty members. Other student-faculty committees have expressed their support of the proposal.
Last week, Executive Vice President Bella Tuttoilmondo, Vice President of Communications Hannah Primm and Chief Senator Maddie Suman took the proposal to the Student Affairs Committee.
The Student Affairs Committee agreed to move it onto Faculty Senate.
"That was really encouraging because I think that gives us a good shot," said Johnsen.
Faculty Senate will consider the proposal at its meeting on April 19.
Leave a Comment