SGA Election Results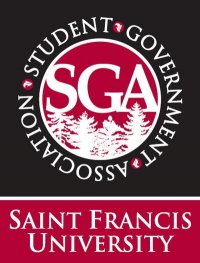 Voting for Student Government Association positions took place online from Oct. 27 to Nov. 2.
The week-long on-line voting provided students the opportunity to choose, at their convenience, who would represent them during the Spring 2022 semester.
Any undergraduate student with a 2.5 GPA who completed the required paperwork was eligible to run for election.
"SGA is a great way for students to be involved on campus," said Alyssa Baxter, who was re-elected a Class of 2023 Senator.
Bella Tuttoilmondo, a sophomore Physician Assistant and Spanish double-major, was elected Executive Vice President.
Tuttoilmondo said she encourages students not involved with SGA to attend meetings so that they can be informed about what is going on around campus.
"Students should stay up-to-date on what is going on during SGA meetings so that it is easier to relay messages to the entire school, and so they can be fully immersed in the SFU experience," said Tuttoilmondo.
"Students should also keep tabs on this information so that their ideas can be heard. New ideas are always encouraged and welcomed. This can also help to bring awareness to different student-led initiatives throughout campus."
Tuttoilmondo added that she hopes more students will attend future SGA meetings because student government is meant to represent the entire student population.
"SGA is for the student body. Without the students, we wouldn't be a functioning organization that advocates for them.
"I encourage others to come to meetings and town hall each semester to have their voices heard."
As for the future goals for SGA, Tuttoilmondo said she would like to help students in the process of acclimating to campus life.
"I will strive to listen to students and their concerns and to improve their time spent here at their home away from home," she said.
Both Baxter and Tuttoilmondo said they are honored to represent the student body through their involvement with SGA.
"I love giving a voice to those I was elected to represent," said Baxter.
Tuttoilmondo agreed.
"I cannot wait to work with students and administration to ensure the optimum student experience at SFU," she said.
In addition to Tuttoilmondo, the 2022 SGA Executive Board includes Abigail Instone, Parliamentarian; Hannah Primm, Vice President of Communications; and Isaac Johnsen, President.
Leave a Comment