Students Show Appreciation to Military Veterans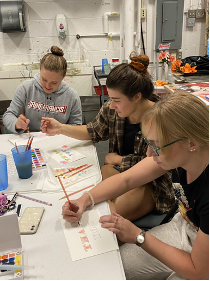 The Center for Fine Arts hosted a "Handmade-for-Heroes" event on Oct. 19.
At the event, beginners and experienced artists hand-painted thank-you cards for local veterans.
Roughly 40 students participated in the event, creating 100 thank-you notes, with more on the way.
"I wanted to show appreciation for those who served our country," says Jessica Campbell, who organized the event. "I thought this was a fun and engaging idea to share with the University and students."
Students who participated in the event enjoyed doing something that reminds veterans that they are appreciated. They also enjoyed the camaraderie with fellow students.
"What a great way to get our students involved and to say thank-you to our veterans," said Karissa Deckard, a staff member in the School of STEAM.
"I think it's great that students want to take time out of their busy schedules and hand paint a card for them."
Leave a Comment