Guest Speaker Delivers Lecture on Race, Religion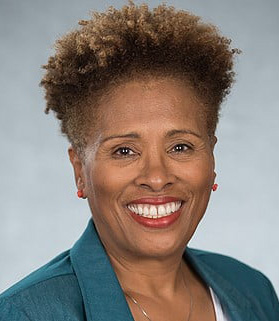 Dr. C. Vanessa White delivered a webinar on race and religion on Feb. 4 titled "A Journey in Becoming Anti-Racist: A Franciscan Call."
The lecture was part of a series of events sponsored by the University in conjunction with Black History Month.
White opened the lecture by referencing the deaths of George Floyd, Breonna Taylor and Eric Garner, before discussing the racism that she noted still exists in the Catholic Church.
"Despite significant changes in the last two decades, the reality of racism remains," said White. 
"Even though almost 50 percent of the Catholic Church is made up of people of color, it is not reflected in the Church's leadership."
White shared the stories of two Black Catholic Church leaders – Augustus Tolton and Thea Bowman – noting their contributions to the Church and their stories of confronting racism within the faith.
Tolton was born a slave in the United States in 1854. Following the Civil War, he attended seminary school in Rome – no American seminary would admit him – and he was ordained a Catholic priest in 1886. Church leaders sent Tolton back to the U.S. following his ordination, and he became the first Black American priest in the nation's history.
The granddaughter of a slave, Bowman was born in Mississippi in 1937 and joined the Franciscan Sisters of Perpetual Adoration. She experienced racism in the convent, but persevered. She helped found the National Black Sisters Conference.
"Tolton and Thea remind us of the beauty and boldness of Black Catholicism in becoming your authentic self," said White.
"Both were challenged in becoming their authentic self because of the sin of racism. Both were witnesses to the strength of spiritual reservoirs and resilience in overcoming impossible odds."
White also talked to the audience about ways that they can work to eliminate racism.
"Educate yourself. As long as we remain in ignorance, the current state of racism will remain. Begin reading. Start a study group. Watch films," she said.
"I recommend choosing one action that works to dismantle institutional racism in your environment."
During the question-and-answer portion of the presentation, an audience member asked White how she remains so hopeful. She attributed her hope to her faith.
"I make a choice every day to choose hope, to be positive, to be rooted in my Franciscan charism," she said. "It doesn't negate the reality of what's going on in our society.
"It's that spirit, that sweet Holy Spirit, that gives you hope."
Leave a Comment