Open for Business in Loretto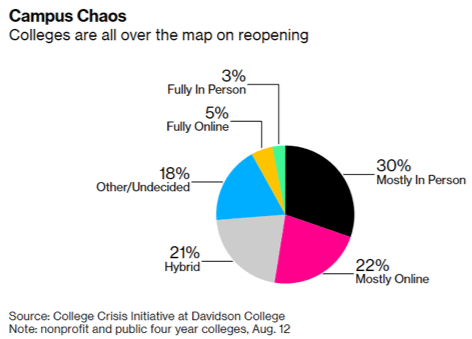 Saint Francis opened its fall semester on Aug. 17 with large-scale face-to-face class meetings. This University-wide reopening followed careful consideration by school officials of the ongoing conditions of the COVID-19 global pandemic. 
SFU is one of roughly 30 percent of schools nationwide that have resumed "mostly in-person" class meetings in the Fall 2020 semester.
Students are back on campus, but they have had to pay closer attention to how their classes are being delivered than in previous semesters. While many faculty members are holding regular in-person class meetings, there are also a large number of University professors utilizing a variety of delivery methods in their courses.
"I have adapted one of my classes with a large number of rostered students into a hybrid/hyflex model, where students are divided into two cohorts that alternate between face-to-face and virtual synchronous instruction via Zoom," said Tricia McFadden, an Assistant Professor of Marketing.
"Two (of my) other courses are designated traditional hybrid courses, with Friday synchronous Zoom sessions."
Roughly a month into the semester, SFU has been successful in protecting its campus community from a COVID spreading event. As of Sept. 4, the school had zero confirmed cases.
Most returning students are pleased to be back on campus, and most of the newcomers to the University are also glad that the administration decided to open campus for the fall semester.
"When I heard that classes were in-person, I was super excited," said freshman Mark Kirk, a member of the Red Flash cheerleading team.
Kirk believes that having different course-delivery options is also a good policy.
"I really like the hybrid option because it's an easy transition from high school right into college," said Kirk.
McFadden noted that SFU's success in avoiding a COVID spreading event thus far can be traced to the seriousness with which the faculty, staff and students have taken the school's precautionary measures, such as wearing masks and avoiding large gatherings.
She also notes that it is important to remain committed to these types of measures.
"We must lead by protecting the health and well-being of our campus community as a whole," said McFadden.
Leave a Comment