Graduation Ceremony for Class of 2020 Still on Hold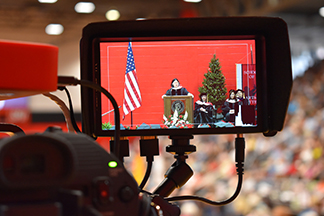 The administration is still working on the organization of a Class of 2020 graduation ceremony, which will likely be held in 2021.
Last semester, after students left campus in the middle of March because of the pandemic, a decision was made to conduct an online graduation ceremony in May. 
Many in the senior class, however, wanted to walk across a stage to accept their diplomas, and they created a petition, requesting an in-person ceremony. The University then reversed its decision and a future in-person ceremony was announced.
"I appreciate that the University listened, and agreed to have an in-person ceremony" said 2020 graduate and former Student Government Association president Teresa Narduzzi.
On Mother's Day – SFU's annual graduation day – Father Malachi confirmed degrees in a video shared with seniors and their families.
"A lot of our jobs need the records, saying that we officially graduated," said Narduzzi, "so they couldn't wait until the ceremony."
Pennsylvania Gov. Tom Wolf's restrictions on the sizes of crowds that are permitted to gather has forced the school to delay an in-person ceremony, but University officials are considering different possibilities.
"One of the options we're looking at, is to do it the same day as commencement for the class of 2021, but to have a separate ceremony on that day," said Father Malachi Van Tassell, President of the University. "Another possibility is to have it on Alumni Weekend, which is in July, but I personally think that it's way too far away."
Even though it's a difficult time, and graduates have moved on in their lives, many look forward to returning to Loretto to celebrate their achievement together.
"The simple answer is that we don't know yet when it will be, but we want to have it as soon as possible", said Father Malachi. "We want to honor the class of 2020, and give them the recognition which they deserve."
Leave a Comment