University Cancels Mock Convention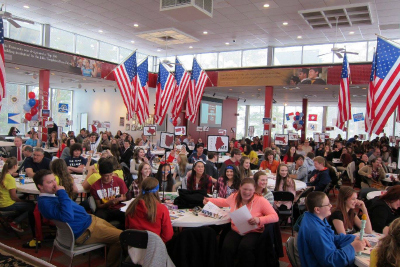 Since the 1960 presidential election between John F. Kennedy and Richard Nixon, the History and Political Science Department, in association with the Current Affairs Club, has made it a tradition to hold a mock political convention on campus.
Because of the Coronavirus Pandemic, however, the 2020 Mock Convention has been canceled.
The purpose of this event is to hold a simulated political convention every election year for the party that is not holding the White House. 
It includes various groups of students and student organizations, who assume the roles of state delegates and select nominees to run for the presidency and vice presidency. 
The event has included high-profile guest speakers in the past, including U.S. Rep. Bud Schuster, Pennsylvania Gov. Tom Corbett, Wisconsin Sen. Eugene McCarthy, Pennsylvania Sen. Richard Schweiker and even South Dakota Sen. George McGovern, the 1972 Democratic presidential nominee.
At the 1972 SFU Mock Democratic Convention, McGovern was partnered with Shirley Chisholm, the first black woman elected to Congress.
Other diverse tickets have emerged from the SFU Mock Convention's long history, including John Kerry and Al Sharpton; Barack Obama and Hillary Clinton; and most recently, John Kasich and Paul Ryan at the Mock Republican Convention in 2016.
"We are disappointed (to cancel), but this step is necessary. We want to thank everyone for all of the work they put into planning for this event," said Joe Melusky in an email sent out to the campus community. 
Melusky is a professor of Political Science and longtime organizer of the event.
Following the cancellation of the Mock Convention, the History and Political Science Department decided to hold an online Mock Primary Election among its students, faculty and staff. 
Voting in the Mock Primary Election closes at 5 p.m. on March 20.