FASFA Season is Upon Us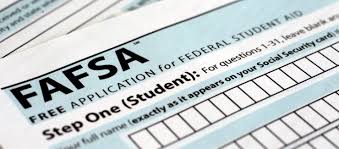 The 2020-21 Free Application for Federal Student Aid (FAFSA) form launched on Oct. 1 on the www.fafsa.gov website.
Students should complete the FAFSA form to ensure that their financial aid and Pennsylvania State Grant are renewed and ready for the 2020-21 academic year.
The FAFSA may be completed any time from Oct. 1 to the start of the next academic year. However, if you are a recipient of the Pennsylvania State Grant or PHEAA, you must complete the FAFSA by May 1, 2020, to be eligible for it the following academic year.
After going to www.fafsa.gov, select the "START HERE" tab, select the "I am a student" button, and log in with your FSA ID and password. From there, select "My FAFSA" page and then select the "FAFSA RENEWAL" button to begin. You will be able to renew and complete the FAFSA.
Most of your information will be carried over from the first time the FAFSA was completed: if anything has changed, update it and continue. You will also need your 2018 income and tax information. You will see the confirmation page signifying that you have completed the FAFSA.
If you have any issues with the FAFSA, select the gray question mark next to each question for further information or help with the question.
Leave a Comment