Father Joe Lehman Elected Minister Provincial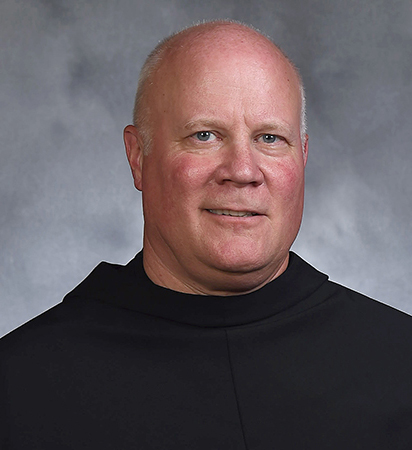 The Very Rev. Joseph Lehman T.O.R. was elected Minister Provincial of the Third Order Regular Franciscans on July 18, 2019. 
The Province also elected a new council to assist Father Joe, who replaces Father Malachi as Minister Provincial. 
"I couldn't be happier for the future of my province in the hands of Father Joe," said Father Malachi. "I did what was mine to do when I was Provincial, and I'm very happy to hand the torch to Father Joe." 
Father Joe had served as Vice President of Mission Integration at the University. In this new role, Father Joe also becomes chairman of the Board of Trustees for Saint Francis, as well as Franciscan University. 
"Father Joe won by a landslide," said Father Malachi. "He got three-quarters of the votes on the first ballot, so it was really an endorsement of what a great man he is and what a great leader he is going to be for us." 
Father Joe credits his leadership experience in many different roles as one of the reasons his fellow friars elected him Minister Provincial. 
"I think a number of friars are looking at me as having a bit of experience, and they felt confident in my abilities to lead," said Father Joe.  
Father Joe said he is excited and prepared to help serve his fellow friars in the most efficient ways possible. 
"We approved a strategic plan about a year ago, and we've slowly been implementing it," said Father Joe. "The friars would like to see that progress further.
"It sounds business-oriented – a strategic plan – but it's trying to be strategic in the sense of where is God calling us as a province. How do we strive to serve the church and God's people with some limited resources, but to do it in the best way we can?" 
Leave a Comment