Graduation for shelter dogs, Dec. 5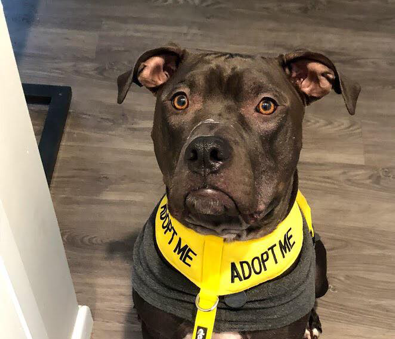 Four shelter dogs will graduate from SFU with a diploma and an AKC Canine "Good Citizen" Certification on Dec. 5.
Cleo (pictured above), Kovu, Hamilton and Paisley are all dogs from the Central Pennsylvania Humane Society who were selected by Psychology students at Saint Francis to complete the course, "Canine Learning and Behavior."
"In class, we work toward the dogs getting their CGC (Canine Good Citizen) certificate," said senior Cecelia Garza. "We work on things like sitting, laying down, obstacle courses and socialization."
This is the third year for the course, which will run again next fall. Every dog that has participated in the course has been adopted.
"Millions of dogs are surrendered into the shelter system every year. Many are euthanized. Many need behavioral rehabilitation," said assistant professor of Psychology Shlomit Flaisher-Grinberg, who teaches the course.
"Our class utilized the psychological knowledge coming from the field of learning to train the dogs for obedience, agility, good companionship, and eventually, facilitate their adoption into their forever home."
This course helps the students gain hands-on learning experience and helps the dogs interact with people.
"We expect to learn the psychology behind training animals, specifically dogs," said Garza. "Our end goal in this class is to get someone to adopt the dogs."
Leave a Comment