Students, faculty, staff participate in Movember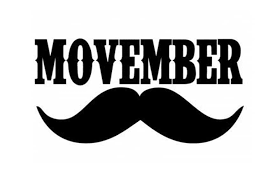 Saint Francis students, faculty and staff members are participating in Movember, a month-long event that raises awareness and money for men's physical and mental health.
Movemeber, or "No Shave November," began with participants shaving on Oct. 31. Participants then grow a mustache or let their facial hair grow out through the entire month of November.
Associate Professor of History Denise Damico is a team co-captain, along with Biology Instructor Andrew Scanlan.
"Men don't always take care of themselves as well as they should," said Damico, "especially when they get older, which has led to negative consequences for their health."
There are several events that will be held on campus to raise money for the Movember cause, including the sale of 50/50 raffle tickets at Saturday's football game.  Also planned is an eating contest during halftime of a basketball game near the end of the month, as well as a best mustache contest.
"There's going to be an interview with WeAreCentralPA about the effort to raise awareness and the Movember fundraising events on campus," said Damico.
The Movember group also raises money through social media platforms and personal contacts.
Associate Professor of Business Eric Ecklund is one of several SFU faculty members who participate annually. He and others use their Facebook pages to seek donations to the cause.
"Last year, SFU's Movember program raised $4,695 in donations," said Ecklund. "This year's goal is $4,500."
Leave a Comment