Father Malachi delivers State-of-the-University Address at JFK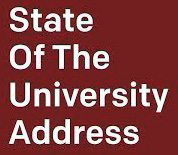 Father Malachi delivered his biannual State-of-the-University address to Saint Francis faculty and staff on Oct. 30.
The presentation, held in JFK Auditorium, provided attendees with a progress report on SFU projects and plans.
After SFU Board of Trustees meetings each semester, Father Malachi speaks to SFU personnel to keep them up to date on the University "in a global sense." The president said that he introduced no new information at last week's address, but did provide updates on development of University programs.
The address began with a summary of the structural changes implemented over the summer. Father Malachi alluded to the University's financial issues and his desire to make an SFU education more affordable for students.
"He used the same wording," one attendee said. "Praise for health sciences, business, liberal arts core, emerging engineering programs and focus on Catholic character."
Father Malachi shared information about new members appointed to the board of trustees, the Sullivan Hall project, enrollment, budgetary information and online courses that will be available to SFU students through Franciscan University beginning next semester.
The president also encouraged employees to keep up their good work on committees and task forces implemented in wake of last summer's structural changes.
"Everybody's doing their day jobs, plus everything else on top," Father Malachi said.
The administration plans on a break-even budget for the 2019-20 school year and no more terminal contracts are planned.
The event was not open to students.
"It is geared more toward faculty and staff," Father Malachi said. "I use SGA's Town Hall meetings to elicit what students are interested in."
Leave a Comment