Science students design signs for wastewater treatment plant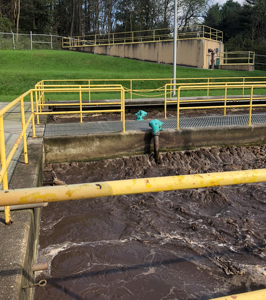 Some biology, chemistry and engineering students have teamed up to create detailed educational signs for Saint Francis' wastewater treatment plant.
Eleven students, with the help of science faculty, are creating museum-quality signs to hang outside the SFU-owned wastewater treatment plant just off campus.
The student-driven project aims to educate the community about the biology, chemistry and engineering that allows the water treatment plant to operate.
The signs would also educate hikers who visit the McGuire Park Walking Trail.
"For me, this is about building a stronger campus community so people know how science and engineering is truly a part of their life," said Chemistry Professor Ed Zovinka.
While helping his son, Shane, with an Eagle Scouts project, Zovinka discovered that most people didn't know about the technology and science involved at the plant.
Paul Kasunic is one of the student leaders on the project.
"I'm excited to have gained the fundamental science and ideas to lead and make the project a success," he said.
The group is currently deciding what information will go on the signs, with the design to be completed by the middle of the spring semester. If all goes well, the signs will be posted by May 2019.
The estimated cost is between $1,500-$2,000. A $1,000 grant will help cover these costs and the Chemistry Club has contributed $500 to the project.
SFU's wastewater treatment plant is owned by the University and delivers and treats all the water on campus and in Loretto. It treats an average of 83,955 gallons of water a day.
The water is returned to the community and the Chesapeake Bay watershed region.
Faculty involved with the project include Zovinka, Associate Professor of Engineering Bill Strosnider and Biology Professor John Trimble.
Leave a Comment