Survey suggests majority of SFU students disapprove of anthem protests at NFL games
Hang on for a minute...we're trying to find some more stories you might like.
Shortly before the debate over players' national anthem protests prior to NFL games exploded onto the national scene, Saint Francis students weighed in regarding their thoughts on this form of public dissent.
In a mid-September survey on football-related issues conducted by Saint Francis students in a Communications research methods course, 82 students were asked the following question: "As you may know, some members of sports teams – primarily in the NFL – are not standing during the national anthem before their games in order to protest police violence against the black community in the United States.  Do you approve or disapprove of this form of protest?"
Forty-seven of the 82 SFU students surveyed (57 percent) said they disapprove of this form of protest.  Twenty-two survey participants (27 percent) said they approve and 13 respondents (16 percent) indicated they were not sure.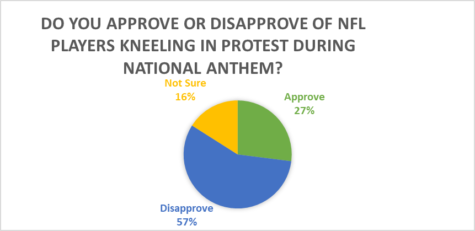 The Pittsburgh Steelers found themselves in the center of the controversy when it appeared that their team was divided prior to kickoff of a game in Chicago on Sept. 24.  With the team in the tunnel leading to the field, cameras captured only one member of the team – former Army ranger Alejandro Villanueva – standing at attention during the anthem.
SFU students' views on NFL player safety issues were also explored in the survey. Equipment is evolving in the league, and the rules are rapidly changing and becoming difficult to follow for the casual fan.
Ninety-six percent of the students surveyed (79 of 82 respondents) said they believe "head injuries are a serious problem in football."  However, when asked if they would allow their child to play tackle football, 59 percent (48 respondents) said that they would, while only 18 percent (15 respondents) said they would not. Twenty-three percent (19 respondents) said they were not sure.
Only 42 percent of survey respondents (34 students) believe the NFL is taking adequate measures to protect players from head injuries.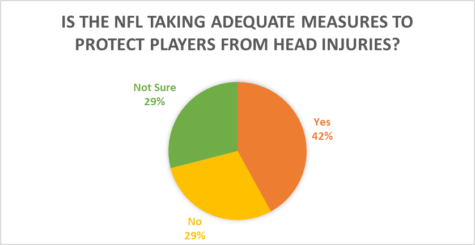 Forty-five of the 82 survey participants were male and 37 were female.  The survey group included 69 white students, seven black students and five students of other races/ethnicities.  One student declined to identify his or her ethnicity.