SFU Hosts Chinese New Year Celebration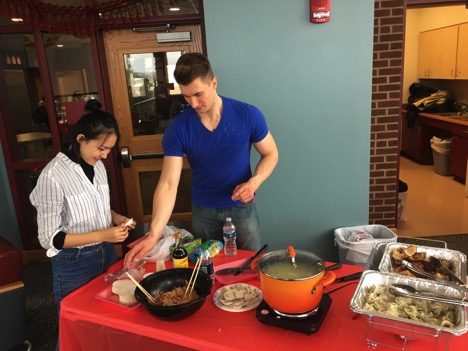 Hang on for a minute...we're trying to find some more stories you might like.
SFU's Office of International Student Programs hosted a Chinese New Year celebration for students and faculty on Jan. 28 in Schwab Hall.
After a morning of traditional Chinese food preparation—which included dumplings, beef with opinions and pepper, fried rice, and more—guests began arriving around 11 a.m. and were soon sampling the prepared entrees.
Several Chinese students showed guests how to write their names in Chinese. Others shared information on Chinese culture and explained to those in attendance how people celebrate the new year in China.
"This event is a really good chance for us to introduce our culture to the students and professors on campus who are interested in [various] cultures," said Chinese student Yiran Li.
"We can let them know the difference between real 'Chinese food' and 'American Chinese food.'"
Those who attended the event noted that it was a learning experience.
"I really like this event," said student Daniel Hoover. "This is the perfect chance for us to communicate with the Chinese students and get to know them better."
For Chinese student Wang Hai, who is in his first academic year at Saint Francis, the event provided an opportunity to connect with members of the SFU community.
"This is my first year here," said Hai. "I' m really enjoying this event. I'm glad to make food and meet with new people in this university."