Communications Department Honors Video Challenge Winners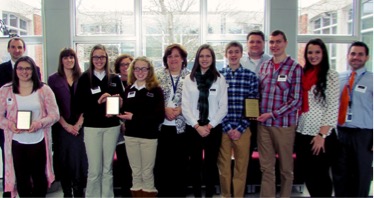 Hang on for a minute...we're trying to find some more stories you might like.
The winners of SFU's Department of Communications' annual video contest were recognized on Jan. 19. Plaques, cash prizes and scholarship opportunities were presented to the winning high school students.
The prize for first place was awarded to Windber High School students Eric Blasic, Hattie Charney, Kourtney Lampel and Ryan Statler. This is the third consecutive year that students from the Windber Area School District have captured the award.
The winners were awarded $500 cash and a $2,000 scholarship if they choose to attend Saint Francis after graduating from high school.
Two honorable mention prizes of $100 each were awarded to Kaitlyn Kitchen of Cambria Heights High School and Maggie Baisdell and Sarah Farabaugh of Bishop Carroll High School.
The contest involved student(s) creating a short film around the theme of "My Childhood."
This year had the most entries in the contest, with eight different school districts participating.
The cash prizes will be split among the winners, while the plaques will be given to the respective school districts for display at the institutions.
The winning videos can be viewed through these links:
Windber: https://www.youtube.com/watch?v=63zqGmn8Hmk&feature=youtu.be
Cambria Heights: https://www.youtube.com/watch?v=XS5TdgS1AVs
Bishop Carroll: https://www.youtube.com/watch?v=82DMSVqApm4&feature=youtu.be