Center for Service and Learning Created as Part of 'Francis 2020'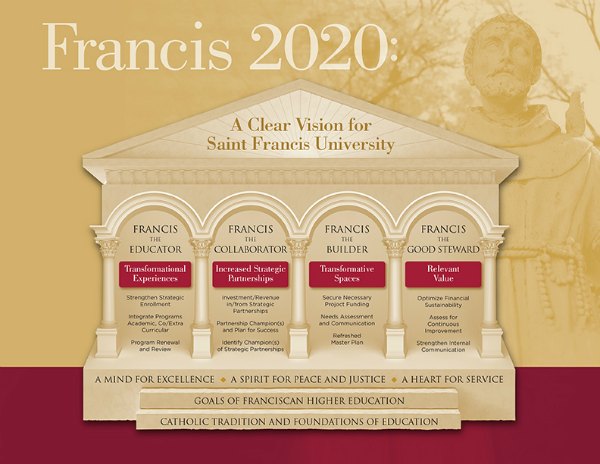 Hang on for a minute...we're trying to find some more stories you might like.
An ophthalmologist's goal is to help his or her patient achieve 20/20 vision. The concept of 20/20 vision calls to mind the words "clear" and sharp."
SFU's current strategic plan to meet the University's mission is called Francis 2020: A Clear Vision for Saint Francis University. This strategic plan is built upon four themes: Francis the Educator, Francis the Collaborator, Francis the Builder and Francis the Good Steward.
As part of its efforts to reach the strategic objectives of its mission, the University recently announced the creation of a Center for Service and Learning.
This office will focus on expanding service opportunities for students. Father Malachi recently appointed Lisa Georgiana as its inaugural director.
A graduate of Carnegie Mellon with a bachelor's degree in business and a master's degree in public policy and management, Georgiana began teaching as a part-time marketing instructor at SFU in 2012. She assumed a position in the Campus Ministry Department in the summer of 2013.
In her new role at the Center for Service and Learning, Georgiana will work closely with Paula Craw, the director of service learning for the General Education Department.
Father Joe Lehman, SFU's vice president for mission integration, pitched the idea of a "center" for service and learning to Georgiana after he saw her work ethic with SFU's Habitat for Humanity chapter.
He was also impressed with her contacts in the region.
"Lisa knows a lot of people in the Altoona community, which will help us expand our community service partners," said Lehman.
Georgiana is excited about this opportunity.
"I love working with students," said Georgiana. "It is gratifying to see students grow and take advantage of what Saint Francis has to offer."
One of the center's primary goals will be to identify community service partnership opportunities in the region.