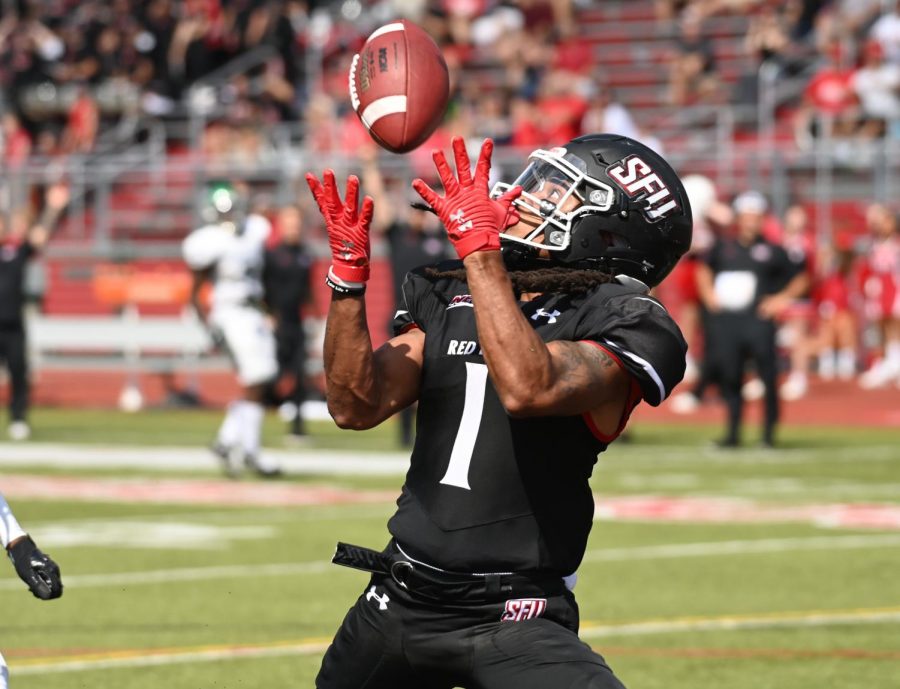 The football team enters its bye week this weekend with a 3-4 overall record and a 2-1 mark in NEC action.
The team has seen many players contribute to its on-field success in 2021. One of these players is Villanova graduate-transfer Josh McGrigg. The wide receiver and return specialist from Meade, Maryland, leads the team in yards-per-catch (29.8), yards-per-punt return (10.8) and yards-per-kickoff return (21.5).
McGrigg is in the midst of his fifth year of college football and while he is new to the scene in Loretto, he has a wealth of experience in the collegiate game.
He started his collegiate career at Villanova after graduating from Mount Vernon High School. He spent four years at 'Nova and was with the Wildcats when the Red Flash faced them in the first round of the FCS Playoffs in 2016.
McGrigg said he decided to continue his collegiate career at SFU because of the connection felt with the staff and players.
"Back in 2016, Saint Francis was one of the schools that recruited me," he said. "I had always said that if I were to play anywhere else, it would be here.
"They always seemed to have a tight-knit group."
During the Flash's 55-10 Homecoming Game win over Long Island on Oct. 9, McGrigg scored three touchdowns, one on a 49-yard catch, another on a 96-yard kickoff return, and a third on a 59-yard punt return. Following this game, he was selected the FCS National Special Teams Player-of-the-Week.
McGrigg said he appreciates the work done by others to promote the team and help him gain this type of national attention.
"I really don't pay too much attention to a lot of the extra stuff, but it was a good to see how many people contribute to the game outside of the players and coaches."
Transferring from one school to another presents a lot of challenges, especially if it is right before a worldwide shutdown. The COVID-19 pandemic threw changes at everyone in all walks of life, but McGrigg credits the SFU coaching staff with making the best out of a very difficult situation.
"I give a big thanks to the staff. They made me feel really comfortable here," he said.
McGrigg said he is looking forward to finishing the season strong and helping his team achieve its goals.
"I'm looking forward to getting to continue to spend more time with the guys," McGrigg said.
"And also looking forward to doing something great with the team while I am here."
Following the bye week, the Red Flash travel to Duquesne on Oct. 30 for an NEC game against the Dukes.