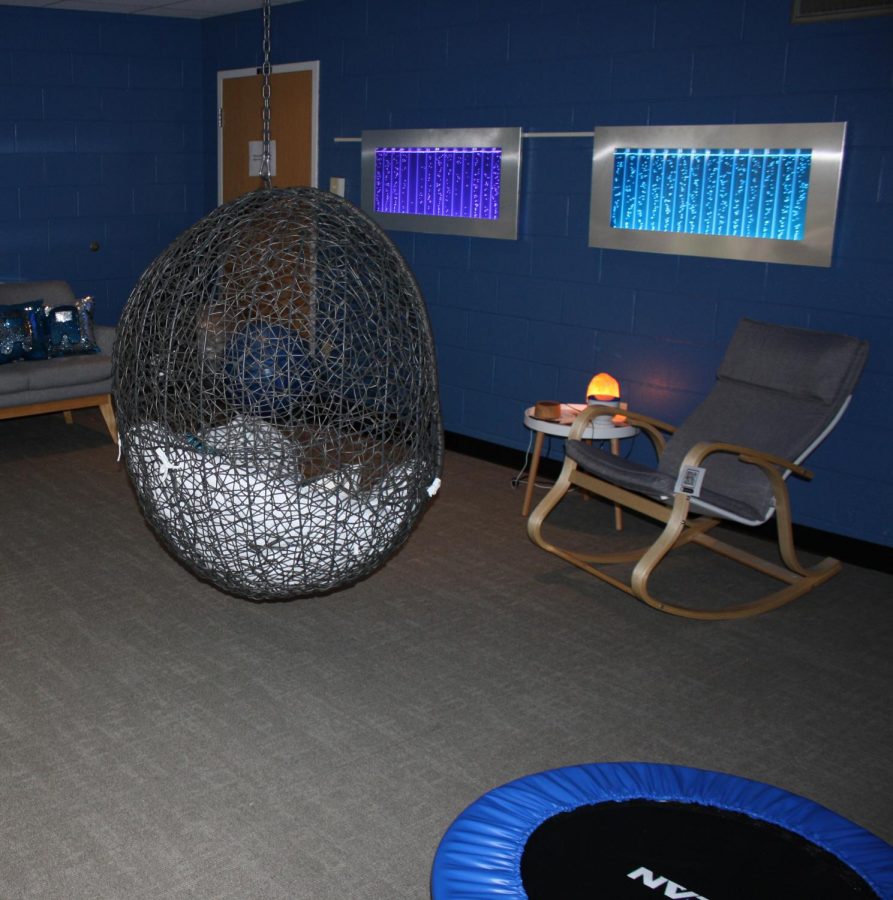 The Occupational Therapy Department unveiled its new sensory room earlier this semester. It is located on the second floor of the library in Room 203.
"We all have sensory systems," said Erin Long, Academic Field Work Coordinator in the Occupational Therapy Program. "Systems in our body that regulate how we react to stimuli in our environment. These include the auditory, visual, tactile, gustatory, olfactory, vestibular (movement) and proprioceptive (body awareness) systems.
"Each one of us is different."
The sensory room includes various activities and items that help engage these sensory systems, including an egg swing, a mounted bubble wall and a speaker to play music.
The idea for this project came from April Fry, Assistant Director of the Center for Academic Success.
"I had several conversations over the years with students and their families about sensory needs," said Fry.
Fry went to Long with the idea and four fifth-year occupational therapy graduate students – Micaela Bessette, Emily Laslo, Allyson Isherwood and Taylor Phillips – spearheaded the project. They conducted interviews with the student body and then selected the different items for the room.
Funding for the sensory room came from an anonymous donor, the DiSepio Institute and a grant from the Student Government Association.
"The sensory room is really about giving students an opportunity to learn more about how they can regulate themselves to be more functional in school, in sports and in relationships with others by providing a variety of tools that target different sensory systems that will help them to relieve stress and anxiety," said Bessette.
"It's so important for us to find functionality and fulfillment in the different tasks we do every day. The sensory room provides support to enhance that."