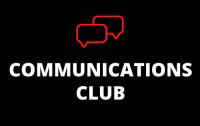 Students in the Communications Program are creating a new club with the goal of bringing people who share an interest in this field together on various projects.
The idea for the club first emerged at the end of the last academic year when graduating students completed an exit survey.
"One of the things students suggested was to have a Communications Club," said Kelly Rhodes, chair of the Communications and Criminal Justice Department.
According to Rhodes, upperclassmen Communications students have already generated some good ideas, including a Communications podcast, finding opportunities to help student organizations with communications/public relations-related issues, and teaching people how to make logos and cool graphics.
"I want the students to drive it," said Rhodes. "Ideas can completely change with a different group of students or different things happening on campus or in society.
"If it is student-driven, that would allow it to be flexible."
The club is open to anyone and not just Communications majors. Anyone with an interest in the field is welcome to get involved.
"I think the Communications Club is a great way for all of us to collaborate on new ideas," said sophomore Lindsey Slebodnik, a Communications major and American Sign Language minor.