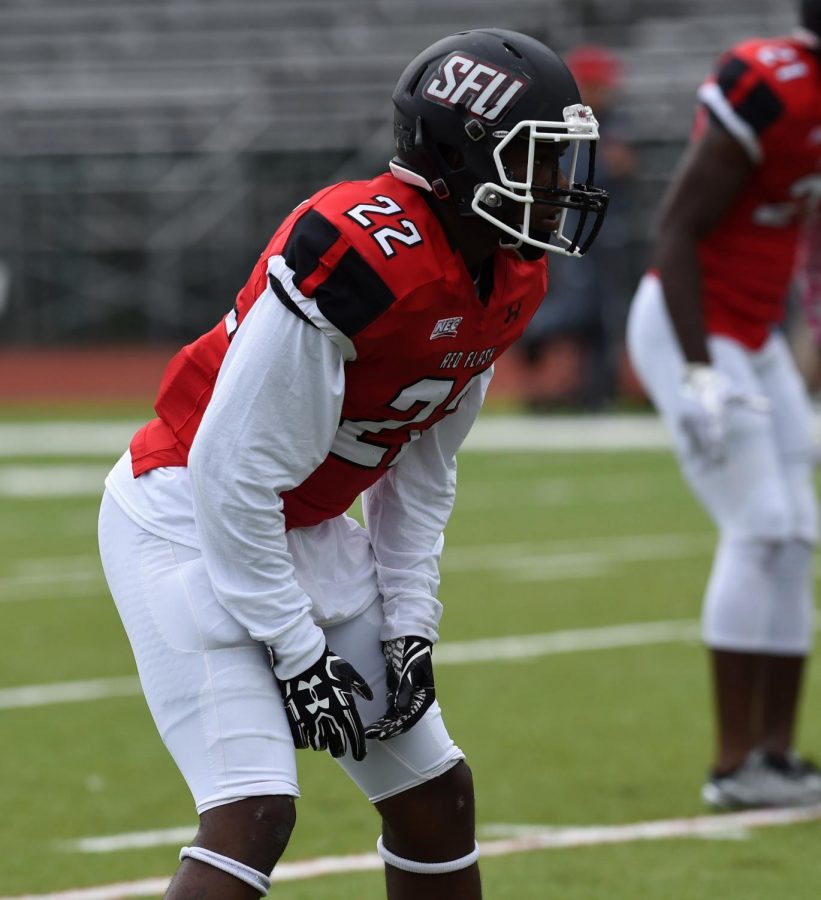 Red Flash football alum Lorenzo Jerome recently signed a contract to compete with the Saskatchewan Roughriders of the Canadian Football League in 2021.
Jerome is one of the most decorated players to ever compete in the Northeast Conference. He earned first-team All-NEC honors in each of his four seasons with the Red Flash.
Since graduating in 2017, Jerome has played in both the National Football League and the CFL. Undrafted coming out of SFU in 2017, he signed a free-agent contract with the San Francisco 49ers and played in several games that season for this NFL franchise. 
He signed a deal with the NFL's Seattle Seahawks in 2018 and spent the 2019 season with the Calgary Stampeders of the CFL, recording 17 tackles and an interception in seven games.
"I'm extremely happy to sign with the Roughriders," said Jerome. "I spoke with the coaches and they're excited to bring me aboard."
Jerome is appreciative of the opportunities that football has provided him since he left Loretto almost four years ago. 
"My professional journey has been a blessing. Making it (to the NFL and CFL) from a small Division 1 school is a pretty exciting thing to do," he said.
The defensive back from Florida helped lead the Red Flash football team to its first-ever NEC title in 2016.
"It was a blast playing with someone as talented as Zo," said former SFU linebacker and current Red Flash assistant coach Ben Bruni. 
"He not only was an incredible player, but he was the nicest guy on and off the field. He always cared about his teammates."
Jerome looks back fondly on his four years at Saint Francis.
"My time at SFU was an extremely great time to be there," he said. "As I grew older, I realized it wasn't all about me. I emerged as a leader. 
"My experience at SFU became the best time of my life, with my friends, coaches, teammates and administrators."
Saskatchewan opens the 2021 season on June 12 against Edmonton.