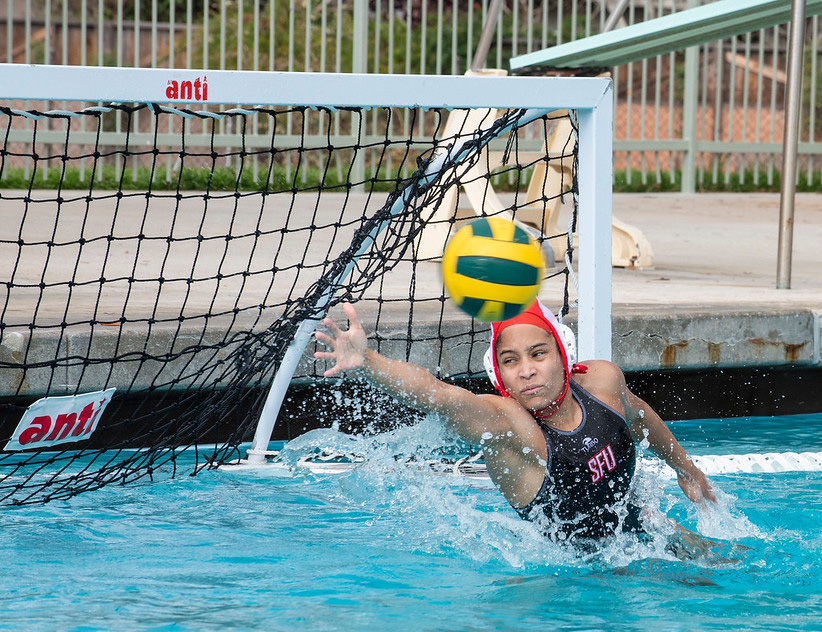 Michael O'Neill
The water polo team secured two wins in its season-opening action at the Hoosier Invitational in Bloomington, Indiana, last weekend, defeating Salem twice (12-8 and 12-7), while dropping a pair of decisions to host Indiana, 16-2 and 17-8.
"I was very pleased with the team this weekend. We came out slow versus Salem, but that is expected after a break of almost a full year," said head coach Jay O'Neil.
"We got a bit overconfident near the end of the Salem game, but we were able to recover very well. I think the recovery speaks volumes as to where this team is – in a good place."
Standout freshmen attackers Emese Szucs (Budapest, Hungary) and Jenna Handali (Greenwich, Connecticut) shared Collegiate Water Polo Association's Co-Rookie of the Week honors for their contributions.
Szucs totaled seven goals, five assists and four steals in an impressive collegiate debut.
"The team had a positive energy from the start, which we were able to keep until the very end," said Szucs. "We were able to address our weaknesses, find solutions, and successfully apply them to the following games."
Junior goalie Rosalinda Rivera (Hatfield, Pennsylvania) was also honored by the CWPA earlier this week, earning Defensive Player-of-the-Week honors after recording 21 saves over her team's four matches.
"The team took a huge leap forward in trusting each other and the power of teamwork and we plan on continuing to build on that experience," said O'Neil.
"The freshmen are doing a great job inserting themselves into this young team and the upperclassmen are doing a great job welcoming them in.
"We were impressed with how well they meshed with the returning players."
 The team was scheduled to play Salem again this Sunday, Feb. 14, but that match has been canceled due to Covid-related issues with Salem. 
SFU will return to action Feb. 20-21 at the Michigan Invitational in Ann Arbor, Michigan.