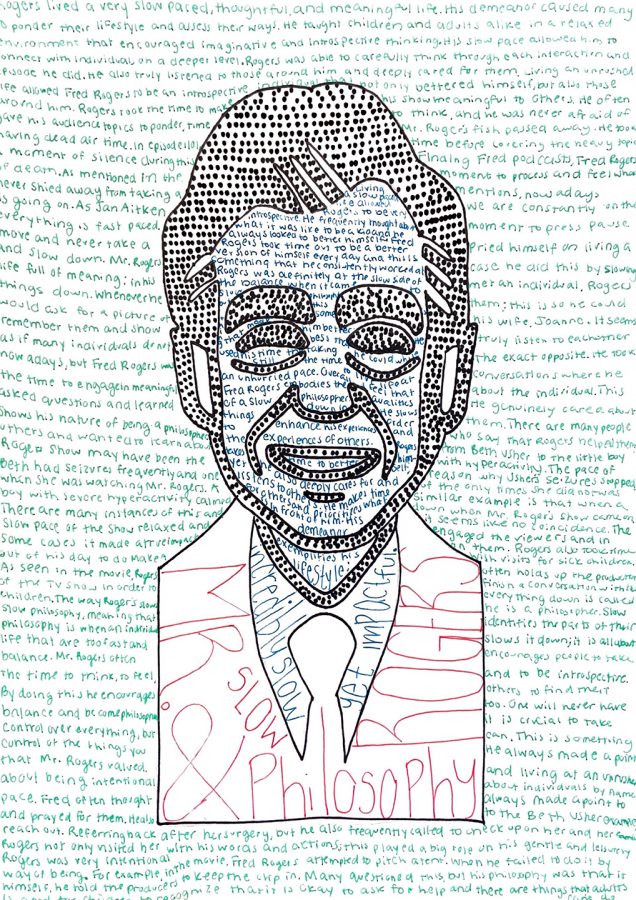 Each fall semester, Associate Professor of Religious Studies Art Remillard teaches an introductory course for freshmen honors students. This semester, Remillard's course focuses on Mister Rogers and his lessons in leadership.
The inspiration for the course came to Remillard after he saw the movie "A Beautiful Day in the Neighborhood," starring Tom Hanks as Mister Rogers.
Remillard is pleased with the course and how it has been received by his students.
"It's exceeding my expectations," he said. "The students really took to the topic and we have been having great discussions."
For some of the students in the course, Mister Rogers is new to them.
"This class has been very interesting because I honestly never watched 'Mister Rogers' Neighborhood,'" said Kaitlyn Maxwell, a freshman from Everett. "The way he was able to speak to not only the kids, but also show adults how to love, was very special."
Two of Remillard's friends – Eric and Holly Mohr – edited a book titled "Mister Rogers and Philosophy: Wondering Through the Neighborhood."
For one of the projects in Remillard's course, he asked his students to read this book, which includes 24 chapters written by various authors, who share their perceptions of Mister Rogers.
Remillard asked his students to add a "Chapter 25" to the book by writing an essay, creating a website or podcast, or producing a relevant work of art.
Remillard then sent these projects to the Mohrs for their review. His class then conducted a Zoom meeting with the Mohrs, during which the group discussed the submissions.
During this meeting, the students also discussed their perceptions of Mister Rogers.
In addition to his course, Remillard has also created a podcast through the Wolf-Kuhn Ethics Institute to explain how people can learn everyday life lessons from Mister Rogers.
In the first of the three-part podcast, Remillard featured Sara Lindey (professor of English) and Jason King (professor of theology) from Saint Vincent College, who discussed their article, "Puppets are People Too."
In the second podcast, the Mohrs discussed their book. The final podcast featured Matthew Ussia, a graduate of SFU and English faculty member at Duquesne University, who discussed his essay "Mister Rogers' Lesson for Democracy."
The students' final project in Remillard's class is titled "Become that Helper" and is inspired by Mister Rogers' famous quote "look for helpers."
"I took that and meshed it with our school's model 'Become That Someone,'" said Remillard.
This final project encourages students to complete a community-engaged project that encompasses love, helpfulness, care, consideration, kindness and the mindfulness that Mister Rogers demonstrated.
"Learning about him has really helped me to see aspects of my life where I could grow to be a better person," said freshman Kristen Ewing. "There have been so many times where I would find myself getting in a dreary mood, or be negative and I think, 'That's not very Mr. Rogers.'
"I found it interesting how he always took things slowly," said Ewing. "As college goes on, life gets busy. That is something that I am noticing I need to do: slow down and live in the moment."