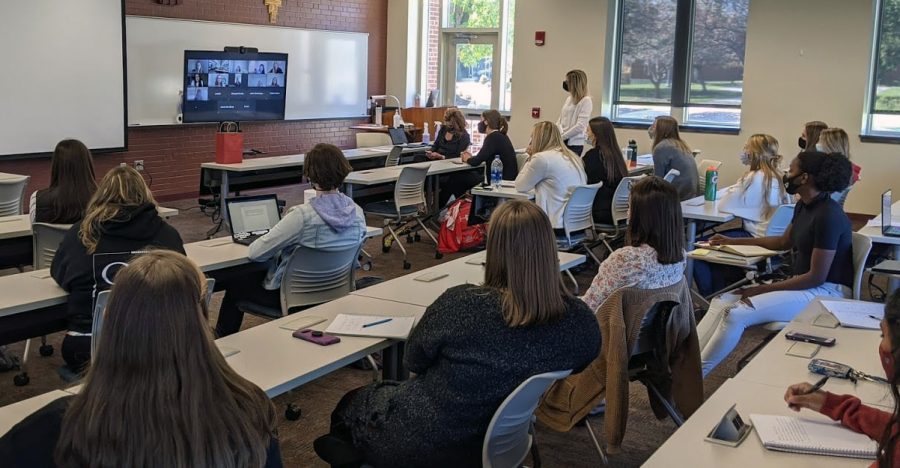 Mentorship Day was held in Schwab Hall and via Zoom on Oct. 9.
The purpose of this annual event in the Shields School of Business is to connect current students with alumni in order for them to gain career advice, guidance and support, as well as add to their network of professional contacts.
The first Mentorship Day was held two years ago.
"In the School of Business, we realize that one of our strengths are our alumni," said John Miko, Associate Dean of the SSOB. "Our students who have graduated have gone on to great careers, and they have a strong affinity for our School and programs."
Miko said he believes that it is important for students to hear directly from those working in their chosen career fields.
"I think it means more when you are talking to someone from industry that is out there, living it every day."
Students could choose to attend 19 different Mentorship Day sessions on Oct. 9, and roughly 60 alumni participated in the event, more than the number that participated in either of the previous two Mentorship Days.
"They were happy with their experience here and they want to give back," said Miko. "They have good hearts.
"Some might not be in a position to give back financially, but they can give time, expertise and guidance."
Having so many alumni participating via Zoom, Miko was concerned that there might be technical troubles surface throughout the event.
"I was worried about the technology," said Miko. "We had alumni zooming in from all over the country. Some students were participating face-to-face, some were there virtually, but I think it went really well."
Students who participated in the sessions believed that it was valuable to them.
"I thought it was really helpful," said senior Digital Media and Strategic Communications major Urska Medvesek. "We had like 10 alumni (in one session) and they were all talking about their transition from graduating to getting a job and the obstacles they overcame.
"I actually followed up with one of the alumni," said Medvesek. "He is currently a product manager, which is something I want to do."
These are the kinds of connections that Miko wants to see come out of the event.
"Our students can learn a lot from them," he said. "One of the things in business, in communications, in the industry – it's not just what you know, but who you know.
"Advice, insights, professional networking – all those are part of the day."