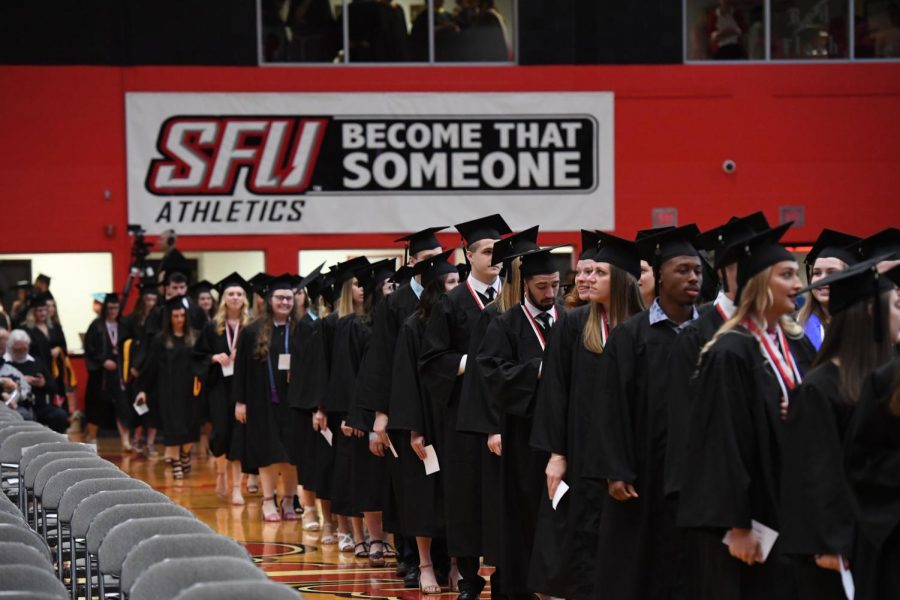 Due to the COVID-19 pandemic, Saint Francis is one of many schools that had to change its graduation ceremony plans.
A virtual graduation for seniors on Mother's Day was initially discussed by administrators. Although students were at home in their virtual learning environments when this idea was announced, phones and social media quickly began to blow up.
Some said they would not be attending. Others complained graduation would look like "that Tik Tok." Seniors expressed their fears that graduation would almost be as if they never attended the University and the ceremony wouldn't be taken seriously.
Unlike Penn State, Pitt, Carnegie Mellon and others, Saint Francis officials noted that the University was not canceling graduation. Seniors with an online graduation would still have the opportunity to turn their tassels and be considered graduated on Mother's Day.
However, with an online graduation, seniors would miss the traditional handshake, the walk across the stage, and the applause from the crowd.
One senior created a petition on Change.org asking for a face-to-face postponed graduation. The petition attracted a great deal of attention on social media. In a few short weeks, more than 1,700 signatures were collected. Signatures included current seniors, underclassmen, parents, family and alumni.
Among the reasons for signing the petition, seniors said that they've worked too hard to not be able to walk across the stage. Parents described the disappointment they saw in their children when they learned that not only were their sons and daughters not returning to campus this spring, but that they would also not be able to walk across the stage at the Stokes Center and receive their diploma.
Many said that they understand the safety concerns that an in-person graduation will entail, but that they were willing to wait until it is safe for such an event.
After careful consideration, Saint Francis officials decided to change the virtual graduation back to a traditional face-to-face ceremony. Seniors applauded the change.
Every Mother's Day, Saint Francis University seniors gather to celebrate their accomplishments over the past four years. Families drive and fly in from all parts of the country and the world to help them share their special moment. It is the last chance for seniors to say goodbye to their friends and professors who have helped them earn their degrees.
It won't be Mother's Day in 2020, but it will still be special for the seniors and their families.
Saint Francis has made a decision that considers the safety and well-being of faculty, students and their families, while listening to the seniors.
It is reassuring for seniors to know that they will be able to finish their college experience "Red Flash Strong."
And together.
Katie Augustine is a senior Chemistry major and Communications minor.