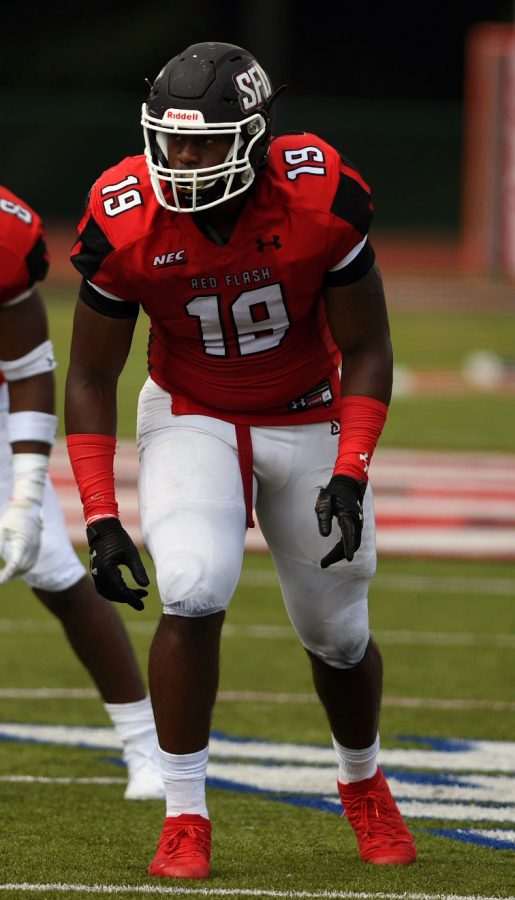 Senior linebacker Da'Jon Lee capped off a great collegiate career last November in the football team's season-ending game at Delaware State.
Over the past two months, Lee has added to his list of honors. He earned All-Northeast Conference, All-ECAC and Hero Sports honors following his senior season.
With his collegiate career now in the rearview mirror, Lee is looking to move from playing on Saturdays to playing on Sundays.
"My current focus of training is to get my 40-yard dash time down to a low 4.7," Lee said. "Training is hard, but I'm loving every moment of it."
Lee's teammates believe he has a great shot at success at the professional level.
"D Lee is a freak of nature," said All-American cornerback Dorian Jackson. "He plays like his hair is on fire every play.
"He made my job boring since he gets to the quarterback so quick."
Lee is hoping that NFL coaches take note of his work ethic and commitment.
"I want NFL teams to know if they pick me up, they'll get an overly dedicated team member," Lee said. "I'm willing to play for any team that gives me a shot, even if it's on special teams."
Lee's Pro Day is scheduled for March 16 at the University of Pittsburgh.
Other former Red Flash football players are finding success at the professional level. Former standout Lorenzo Jerome is playing in the Canadian Football League with the Calgary Stampeders after a stint in the NFL. Jermaine Ponder, who graduated from SFU last year, is a member of the Seattle Dragons in the XFL.