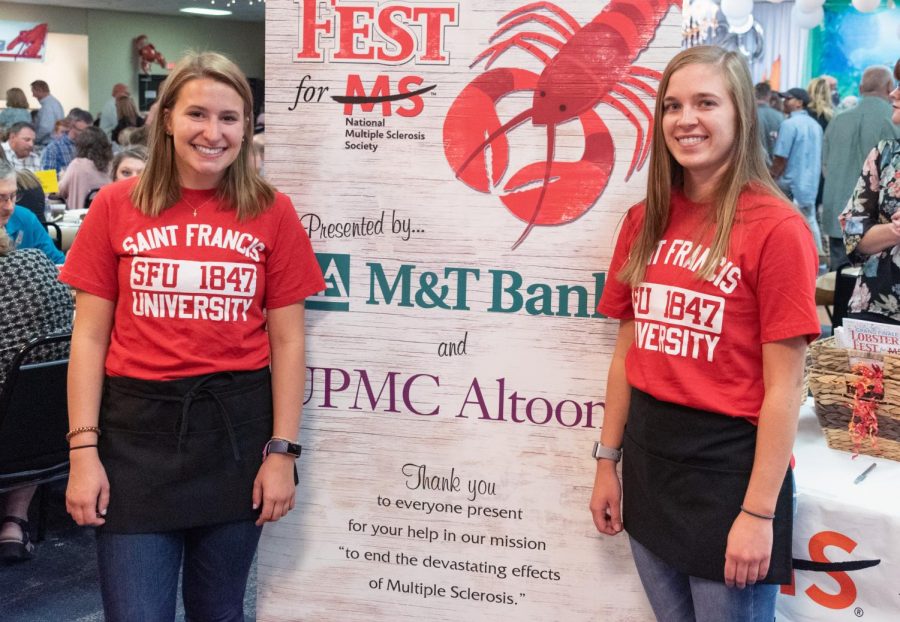 Enactus students participated in the final "Lobsterfest for MS" event on Sept. 27 at the Bavarian Aid Society in Altoona. 
The event raises money for the National Multiple Sclerosis Society through the sale of raffle tickets and an auction. 
This fall's Lobsterfest for MS was the 20th and final time the fundraising event will take place. Volunteers from SFU's Enactus team and the Penn State Altoona Sheetz Fellows Program participated.
It was the 12th straight year Enactus students volunteered at the event.
"I have watched so many Enactus students volunteer their time at this event and it has made a meaningful impact on so many lives," said Enactus Co-Advisor Nicole Bauman. 
"Not just those that it benefits, but also Enactus students who were able to work with amazing people and help this organization reach its goals." 
Hoss's Steak and Seahouse has sponsored and catered the event for the past 20 years, providing guests with either a lobster or filet mignon dinner.
Lobsterfest is sponsored by local businesses and individuals who donate food, as well as the items that are raffled off at the end of the night. 
Enactus students seated guests, served dinners, cleaned tables and sold raffle tickets. 
"While there is no official way to track which team sells the most tickets, we always have a friendly competition to try to outsell each other," said Vice President of Enactus Morgan Flack. 
"I and many other [Enactus] students enjoyed and took pride in raising money for the National MS Society."