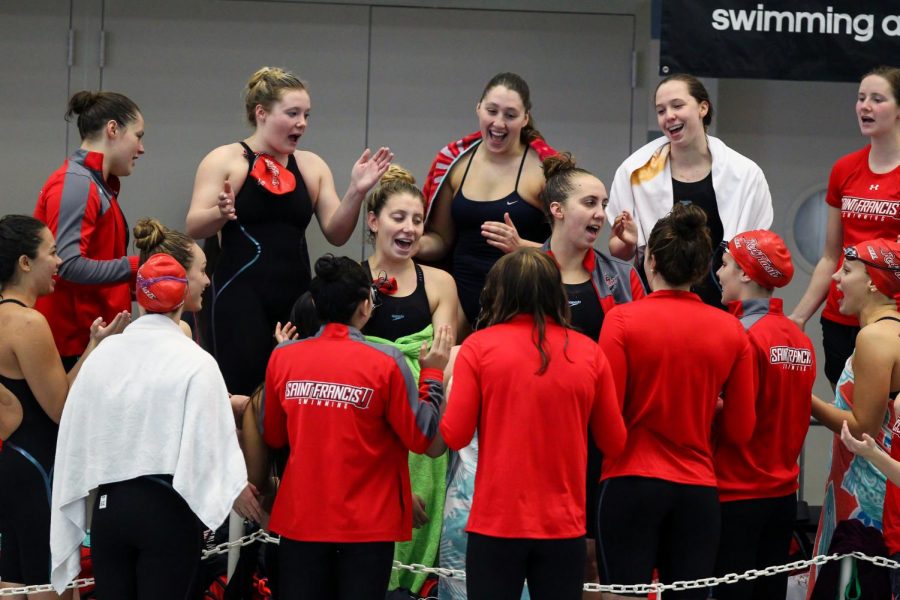 The swim team will look to make a splash in its home-opener and senior-recognition meet when it hosts Liberty on Oct. 5 at 11 a.m. The Stokes Natatorium will be filled with friends and family as SFU hopes to secure a win in the program's only home meet of the 2019-20 season.  
"Liberty is a fast team and I think they will be challenging to race," said senior Karilyn Quon. "But it's a great way to get our season started with some speed."
The Flash are coming off a disruptive but successful 2018-19 season. SFU secured third place in the 2019 Northeast Conference Championship, even without a diving team.
"NECs was the highlight of the season for me," said Jess Rupp, an NEC medalist and one of this year's team captains. "Getting to cheer on my teammates and watch everyone swim lights-out fast was my favorite part."
It has been a trying couple of seasons for the seniors as they enter the last home meet of their careers. Following the surprising resignation of former head coach Rory Coleman a month before the 2018-19 season began, the program was in a scramble to find a new coach. Kyle Almoney took over the program following Coleman's departure, but ceased working at the University last February after being arrested on charges that he stole nearly $40,000 from a non-profit swim club he had founded in Lancaster County.
The Red Flash are now coached by Phil Hurley, who hopes to bring stability and consistency to the team. Hurley was hired in August after serving as the head swim coach at Lock Haven University for two seasons.
"This program has an incredible amount of talent and potential," said Hurley. "Given the right leadership, I believe that our team can compete at the highest level."
Seniors Karilyn Quon, Emily Graziano, Emily Anderson, Teresa Narduzzi, Sabrina Bowman, Kristen Toth, Erin O'Neill and Meghan Albertelli will all be recognized for their dedication in the pool and the impact they have made on their teammates on Saturday. 
"Many unforgettable memories have been made these past four years with these girls and the significance of the senior meet will be bittersweet," said Quon.