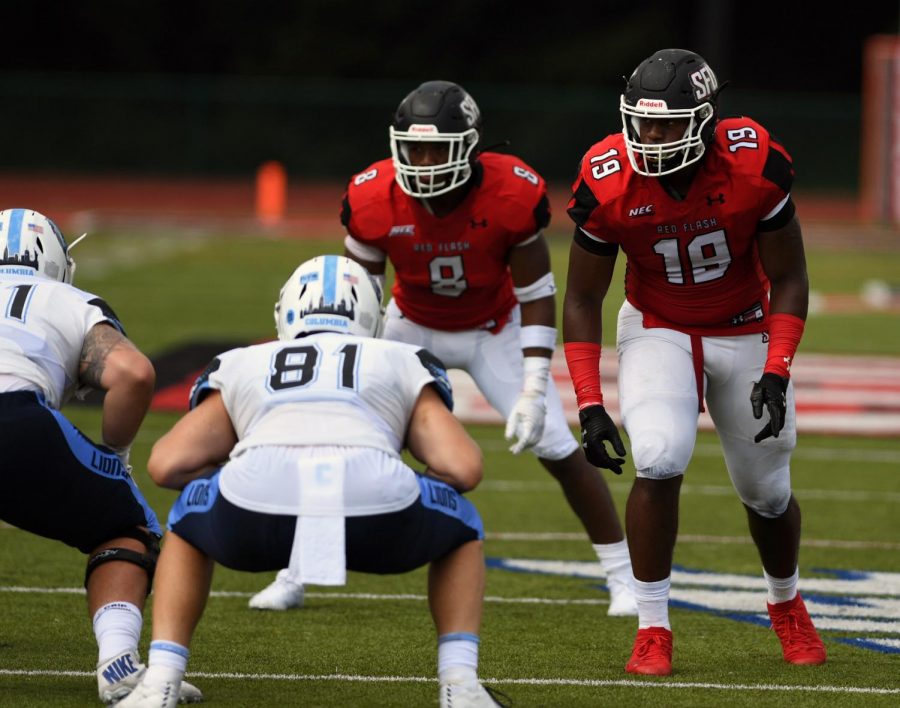 The football team enters its bye week this weekend following a 16-6 win over Bryant last Saturday in its NEC opener. 
The Red Flash are 3-2 with an impressive season-opening win against Lehigh in a nail-bitter and a blowout against Merrimack. The Red Flash also learned lessons in losses to James Madison in week two and Columbia in week four.
Redshirt sophomores and former high school teammates Jason Brown and EJ Jenkins are two of the offense's most potent weapons thus far. Brown has thrown for 938 yards and seven touchdowns through five games, and has also rushed for 39 yards and a score. Jenkins has caught four of Brown's seven touchdown passes and hauled in 14 overall.
On the defensive side of the ball, Da'Jon Lee and Gio Vonne Sanders have stood out through the first five games. Lee has made 25 tackles, five of those for losses, and recorded a sack. Sanders has been busy as well, accounting for 15 tackles and three interceptions.
"I think that we've shown glimpses of the rate of execution that we can succeed at," said offensive coordinator Marco Pecora.
"Fundamentals, attitude and effort are what we're planning on focusing on getting better at this bye week."
Defensive coordinator Bishop Neal has been pleased with his unit's effort.
"The one thing I've seen consistently on film is that we play hard," said Neal. "The main focus this bye week are the details and doing the little things right."
Head coach Chris Villarrial believes the team has demonstrated improvement from week to week.
"We're going back and focusing on technique this bye week, and we're going to go back to the basics and look to get young guys some reps," said Villarrial.
The Red Flash are back home Oct. 12 to face off against Robert Morris at noon.