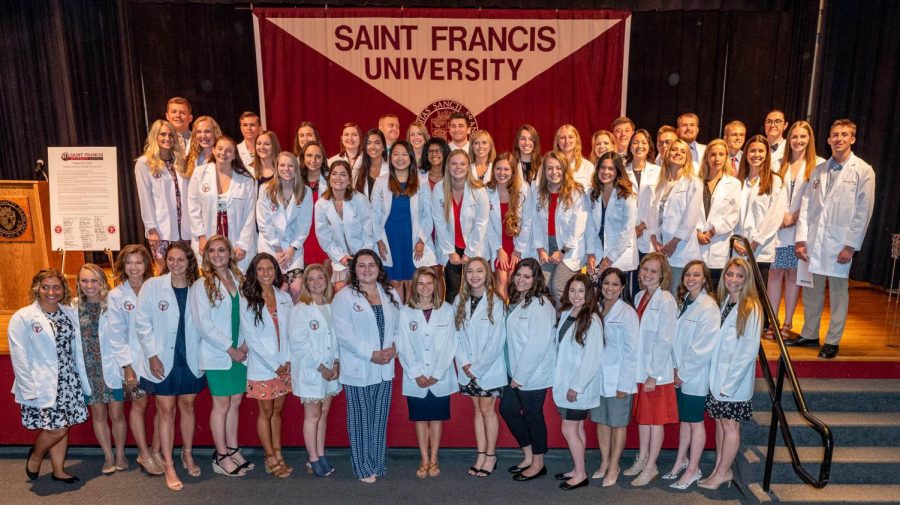 The Physician Assistant Sciences Class of 2021 received their white coats at the first "White Coat" Ceremony in the program's history. 
The ceremony was primarily a celebration of the students transitioning from undergraduate to graduate-level courses. It also celebrated their hard work and tenacity. 
Emily Graziano, a Physician Assistant major and the 2020 Class President, spearheaded the efforts to organize the White Coat Ceremony. She said she wanted to have her classmates recognized for their hard work and dedication to the program. 
She said it served as a stepping stone into the next level of the medical field.
"Organizing SFU's first Physician Assistant White Coat Ceremony was among the most meaningful and rewarding experiences that I have been a part of as an SFU student," said Graziano.
"It required a great deal of time and hard work, but every minute of planning was worth the effort."
During the ceremony, the Class of 2021 collectively signed and read the Hippocratic Oath, uttering their desire to serve their patients to the best of their ability, according to their medical judgment, and to refrain from causing harm. 
"The White Coat Ceremony helps remind them that they are studying not so they get good grades on tests, but so that they are able to actually help people," said Thomas Woods, a Professor in the Physician Assistant Sciences program. 
"It's an overt manifestation of a new level of participation in the medical fraternity."
Woods also sees the event as a way to recognize the students' accomplishments.
"They work exceptionally hard. It is good for the community to see them in this light."
 Graziano said she hopes to see the White Coat Ceremony become a tradition at SFU.