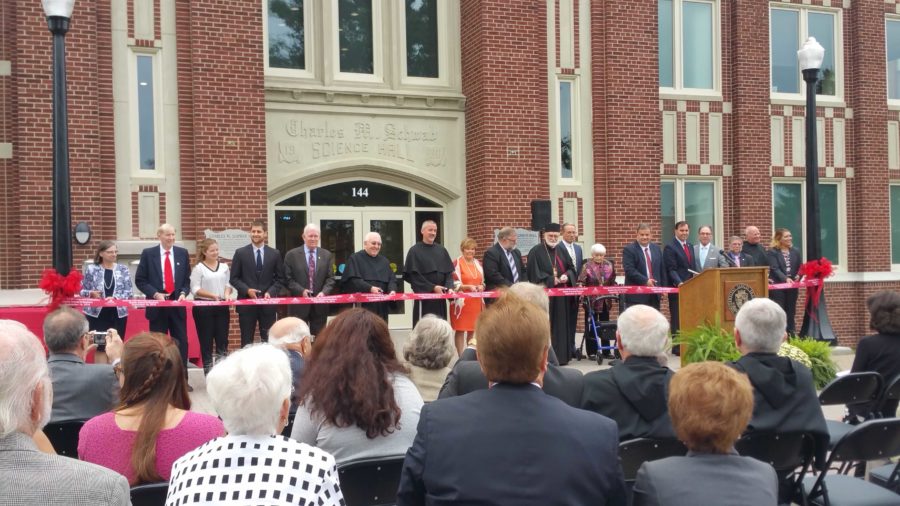 The modernization of Schwab Hall has been completed; hundreds came out for the ribbon-cutting ceremony of the newly renovated home of the School of Business on Friday, September 16th.
The $7.6-million project, fully funded by the generosity of alumni and friends of SFU, had been operational since the first day of classes, August 22.
The focus of the ceremony was to present the future with remembrance of its past. While recognizing the past, the first floor was dedicated in memory of Dr. Albert A. Zanzuccki, who died last year after devoting more than 70 years to serving the university.
Zanzuccki left a strong impact on the Saint Francis community while serving as a professor of accounting and chair of the Business Administration Department and then volunteering in the Office of Advancement.
The second floor was then dedicated to another former accounting professor and Business Administration chair, Dr. James L. McConnell. The third floor is dedicated to the Franciscan Friars of the Third Order Regular.
The classrooms have been completely redesigned with new desks, tables and technology to help facilitate learning and improve the education of the students who have classes in the building.
"Every day I approach this building with a feeling of pride," Dean of the School of Business Dr. Randy Frye said. "It met high expectations and exceeded them."
University President Fr. Malachi Van Tassell announced that the School of Business will now be formally known as the Shields School of Business. The name honors the support of Peter and Suzy Shields for their generosity toward the renovation project.
"This was a very special day because not even I thought the money would be raised so quickly," Fr. Malachi reflected. "I'm very pleasantly surprised that we accomplished this project as quickly as we did, and that's full testament to our benefactors who were so generous and really to the folks on campus who made this project become a reality."
Assistant Professor of Management Dr. Eric Ecklund served as Faculty Liaison for the Schwab Hall renovation. The project has grown exponentially since the last time the Troubadour interviewed him.
"With every week, more and more seemed to get done," Ecklund said. "It was amazing how quickly everything came together."
According to Ecklund, once the windows were in place and the addition behind Schwab was completed, the building process picked up.
The original ground-breaking for Schwab Hall took place in 1930. Most of the renovation stayed true to the original plan, with the biggest change being the stairwells, as safety concerns necessitated changes.
Very Rev. Richard Davis, chair of the university's Board of Trustees, ended the ceremony with a blessing just before trustees, business students, alumni and honorary guests were brought in front of the hall for the ribbon-cutting.