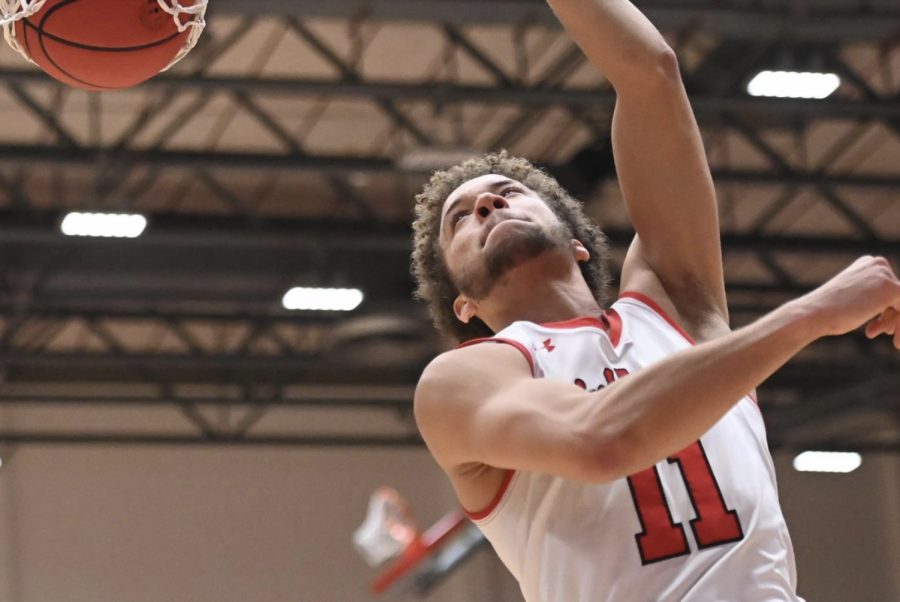 After a tough shooting night at George Washington in their season-opener on Nov. 9, the Red Flash found their stroke in a 100-54 victory against Division III sister school Franciscan University on Nov. 15.
It was the first basketball game in front of fans at the Stokes Center since March of 2020.
"It was huge for us – the band playing and the excitement and roar of the crowd," said Red Flash head coach Rob Krimmel. "It's something we took for granted."
Franciscan was able to keep it close for a majority of the first half, cutting the SFU lead to 27-26 with 3:42 left before halftime. The Red Flash, however, went on a 14-2 run to close the half up by 13. The surge was led by sophomore Ronell Giles, who finished the game with 14 points. During the run, Giles completed a four-point play in front of Franciscan's bench.
Krimmel said Franciscan's performance was gutsy and that the Barons had a well-executed game plan for a majority of the first half. He complemented Franciscan head coach Joe Wallace and the Barons for hanging with the Red Flash.
The Red Flash started hot in the second half, going on a 10-4 run to extend their lead to 19 with a little over 17 minutes to play, and SFU kept its foot on the gas from that moment on, outscoring the Barons by 33 in the second half to reach triple digits on the scoreboard for the first time since Jan. 15, 2020.
"These guys did a great job," said Krimmel. "Ronell started driving to the basket more and taking more shots. And Max (Land) came out in the second half and gave us a really good spark as well."
Land led the Flash in scoring with 19 points, a career high for the 6-4 sophomore. Sixteen of his points came in the second half.
"In the second half we started a lot sharper and (played) together," said Land.
Because of its large lead, the Flash were able to turn to bench down the stretch in the game. Late in the game, freshman walk-on Brendan Scanlon received a huge ovation when he scored the team's final two points of the night on a lay-up.
"In my 10 years of head coaching and 25 years at Saint Francis, I don't think I've ever seen an ovation quite like the one that Brendan had," said Krimmel.
The Barons were led in scoring by junior guard Colton Hage who put up 11 points on five made shots in 11 attempts.
The Flash are now 1-1 on the season and will play at Virginia Tech on Nov. 18 at 8 p.m.