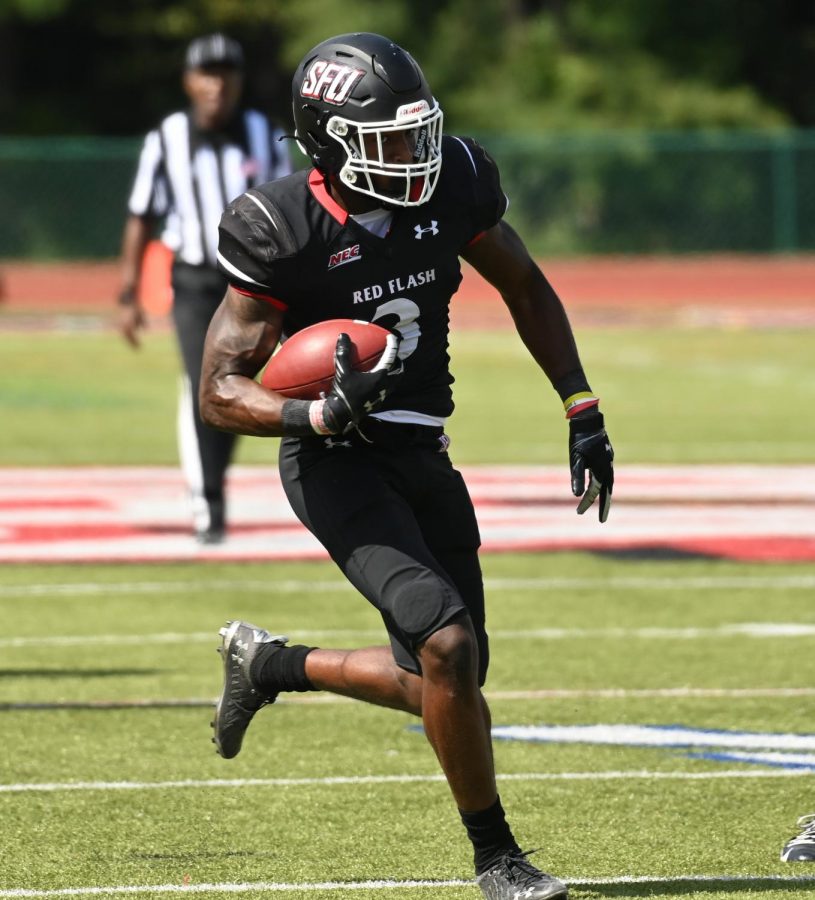 Wide receiver Kahtero Summers is enjoying an outstanding year for the football team and currently ranks second in the Northeast Conference in receiving yards per game (55.6) and fifth in receptions per game (3.9) with two games to play.
The Flash host Merrimack on Saturday at noon. It is the final home game of the season and the program's seniors will be honored after the game.
"It means a lot to be able to help my team with their success this season," said Summers. "It's been an exciting season and I'm blessed to be a leader on this team."
SFU enters the game against the Warriors with a 4-5 overall record and a 3-2 mark in the NEC.
Summers is a redshirt sophomore due to a COVID-19 year granted by the NCAA after he redshirted his freshman year in 2018. A native of Providence, Rhode Island, who moved to Coatesville, Pennsylvania, when he was 11, Summers played at Coatesville High School for head coach Matt Ortega, who is a Saint Francis alum.
"Ever since Kahtero got here, you could see the physical tools were there for him to be an elite college football player," said SFU offensive coordinator Marco Pecora.
In addition to leading his team on the field, Summers is also a leader off the stat sheet.
"The amazing thing about Kahtero is his maturity off the field – he has turned into a true leader and a captain," said Pecora.
"His ability to help others on the team with their game has really made his success on the field special."
Summers had just 14 receptions in the 2019 season for 189 yards, but has turned in impressive numbers this season and enters the Merrimack game with 35 catches for 498 yards and seven touchdowns.
Playing on the outside has given the 6-foot-3-inch receiver favorable one-on-one matchups all season, ones that he has taken advantage of.
"It's been a constant uphill battle, but I've just been working hard," Summers said.