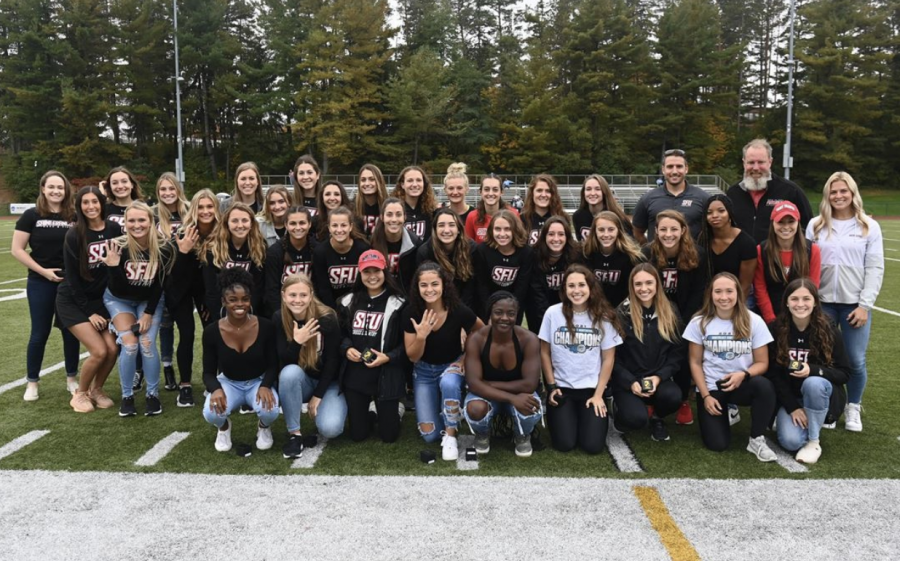 The women's track and field team was honored for capturing the 2021 Northeast Conference Outdoor Championship during a ring presentation ceremony on Oct. 9 prior to the Homecoming football game.
"We knew we could do something special this past year," said Mylan Cruz, the Most Valuable Performer at the meet. Cruz won the 100m and 200m and was a member of the 4x100m winning team.
"Every single one of us put in the work and was holding each other accountable. It was amazing to see all of our hard work pay off.
"The ring ceremony was surreal and it was nice to see the support we got from the SFU community."
The team scored 195 points over the two-day finals last spring. It was the fourth-highest point total in NEC Outdoor Championship history.
"The ring ceremony was an event many athletes dream of having," said Emily Lunger, who captured a gold medal in the high jump at the NEC Championship.
"We worked very hard for that moment and I hope we can repeat it again this year."
The team's performance at the NEC Championship last May in Smithfield, Rhode Island, was dominant. Six Red Flash student-athletes earned gold medals, seven captured silver, and two took home bronze in a 10-team field.
Track and Field Head Coach Doug Hoover, Vice President for Innovative Partnerships and Student Development Frank Montecalvo and Director of Athletics James Downer presented the rings to the members of the team at the ceremony.
The championship team includes: Rhoda Alaban-Tafon, Marezy Anderson, Jenna Beitel, Jacqueline Broehl, Ashley Cichon, Shannon Cody, Olivia Conrad, Mylan Crews, Maria Ferraro, Maggie Fox, Caroline Fyock, Emma Gentile, Adiya Golden, Monica Gregg, Marly Jacobs, Hannah Jones, Ashley Lafferty, Vittoria LaRosa, Emily Lunger, Quinn McElhenny, Mandy McElheny, Kat McLaughlin, Jalurah Moore, Maddie Murphy, Gabby Nebiker, Nicole Neborg, Claire Oliver, Adrian Page, Sara Phelan, Hailey Prestash, Caroline Ratchford, Kiana Robinson, Gabrielle Stanavich, Aaliyah Vandergrift, Mackenzie Walker, Ellie Wanner, Taylor Weaver, Taya Whitfield, and Zoe Wicks, and Maddie Wright.