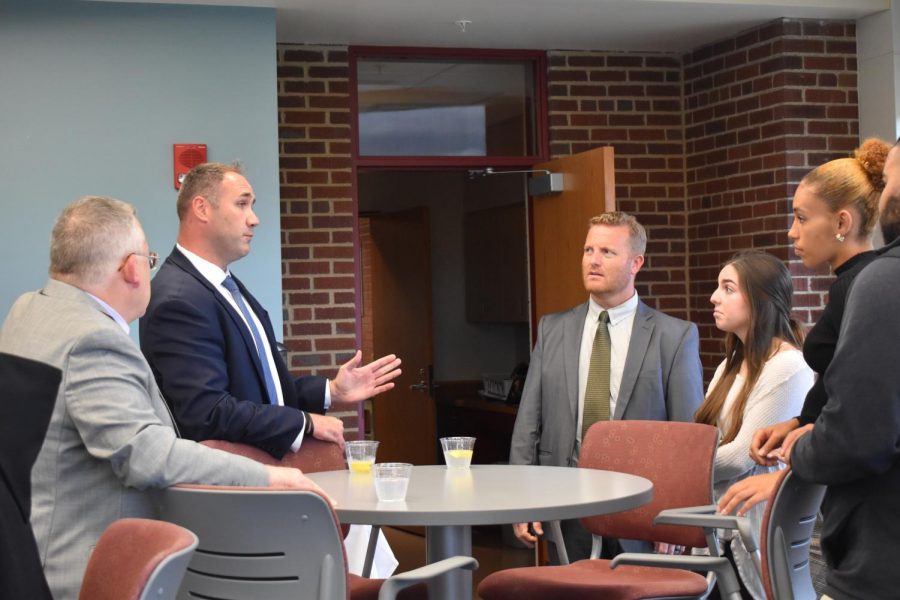 SFU hosted a counterterrorism summit on Sept. 23 at JFK Auditorium. The event was part of the Dr. Albert A. Zanzuccki Chair in Business Distinguished Speakers' Series. It was co-hosted by the Shields School of Business and the Criminal Justice Program.
The event provided students and other attendees with a general understanding of evolving aspects of domestic and international terrorism.
The speakers who participated in the event included Supervisory Special Agent David Foster, Joint Terrorism Task Force (JTTF) Officer Michael Matta and Supervisory Intelligence Analyst (SIA) John Pulcastro. Opening remarks at the event were provided by Cambria County District Attorney Greg Neugebauer.
The guests discussed what goes into preventing terrorism and targeted violence. They also discussed cybersecurity issues. The speakers presented on their areas of specialization.
They also told those in attendance how they can aid in counterterrorism efforts.
"Any time that I get the opportunity, I remind people that this is a team game – that law enforcement is here to serve you, here to help you, here to protect you," said Neugebauer.
Neugebauer said he advises Cambria County citizens, as well as those outside the county, to report anything that might be perceived as terrorism.
"If you see something, say something," he said.
Assistant Professor of Sociology and Criminal Justice Mark Buckwalter, with the help of the Criminal Justice Club, organized the event.
Buckwalter believed the speakers provided valuable information at the event.
"It was an outstanding learning environment for students," he said.
Following the presentation, attendees participated in a question-and-answer session with the agents. During this part of the event, the audience learned more about each of their specific backgrounds and how they landed in the positions they are in today.
One attendee asked Pulcastro how people in the United States should engage with refugees who are entering the country.
Pulcastro said that community engagement is incredibly important when working with the refugees who are entering the United States.
Following the event, students got the chance to meet the agents and establish connections with them.
Senior Cybersecurity Administration major Kate Viera said she was already considering a job with the federal government prior to the event and that the presentation reinforced her decision.
"Getting to talk to these agents – who are working so hard and so fast – is really driving me toward my next step," said Viera.