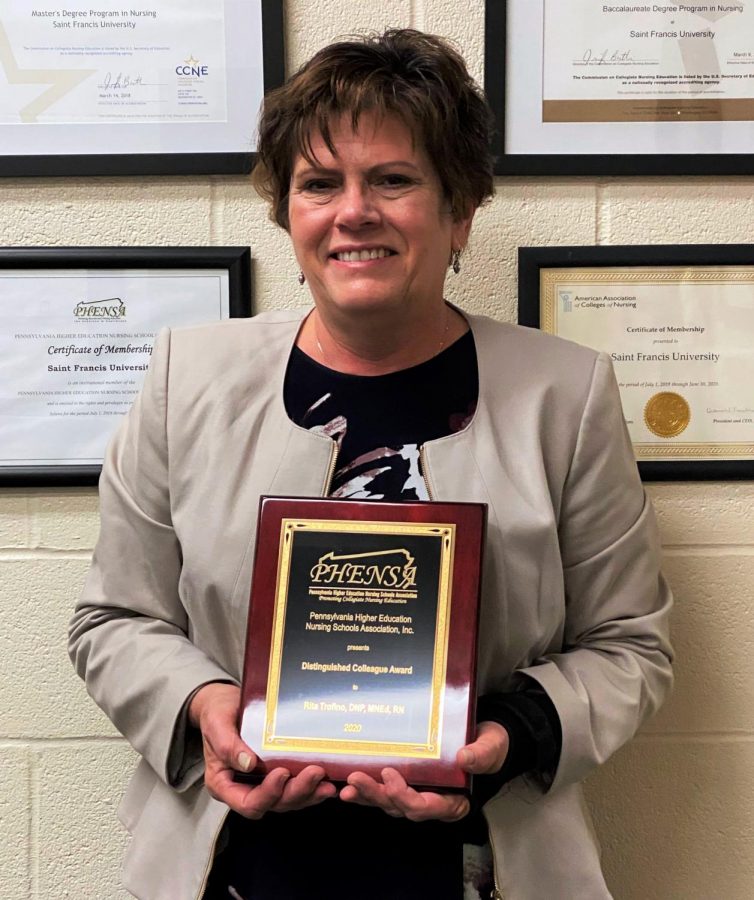 Rita Trofino, Associate Dean of the School of Health Sciences and Education and Nursing Department Chair and Professor, was recently awarded the Distinguished Colleague Award from the Pennsylvania Higher Education Nursing Schools Association.
PHENSA is a statewide organization which helps baccalaureate and higher-degree nursing programs in Pennsylvania plan and implement programs for growth, development and advancement. Program membership is open to any Pennsylvania college or university with a baccalaureate or higher-degree program with a major in nursing.
Trofino has been a member of the SFU faculty in a full or part-time role for 25 years. She has served as the Nursing Department Chair since 2011 and as the Associate Dean in the School of Health Sciences and Education since 2012.
"My favorite part of teaching is the interaction with the students," said Trofino. "I especially enjoy seeing the students in action when I visit the clinical sites.
"They really shine in the clinical area. I am so happy to have a small share in graduating exceptional, caring nurses who practice Franciscan values."
Criteria for this award include exercising responsible leadership in planning and implementing programs of action for the growth, development and advancement of baccalaureate and higher-degree programs.
Award-winners must also demonstrate leadership that promotes innovation and improvement of nursing education, while assisting colleagues within the nursing education field.
Communicating with the public, legislators and community leaders regarding the goals of professional nursing education is also considered by the PHENSA.
"I would describe the nursing program here at SFU as being an exceptional program with the most caring faculty," said junior nursing major Jordan Markiewicz.
"The faculty are there to support you 100 percent and really want to see you succeed.
"One of my biggest takeaways is just how much support there is for us as students. Your instructors are always there if you need anything and they really help your confidence."