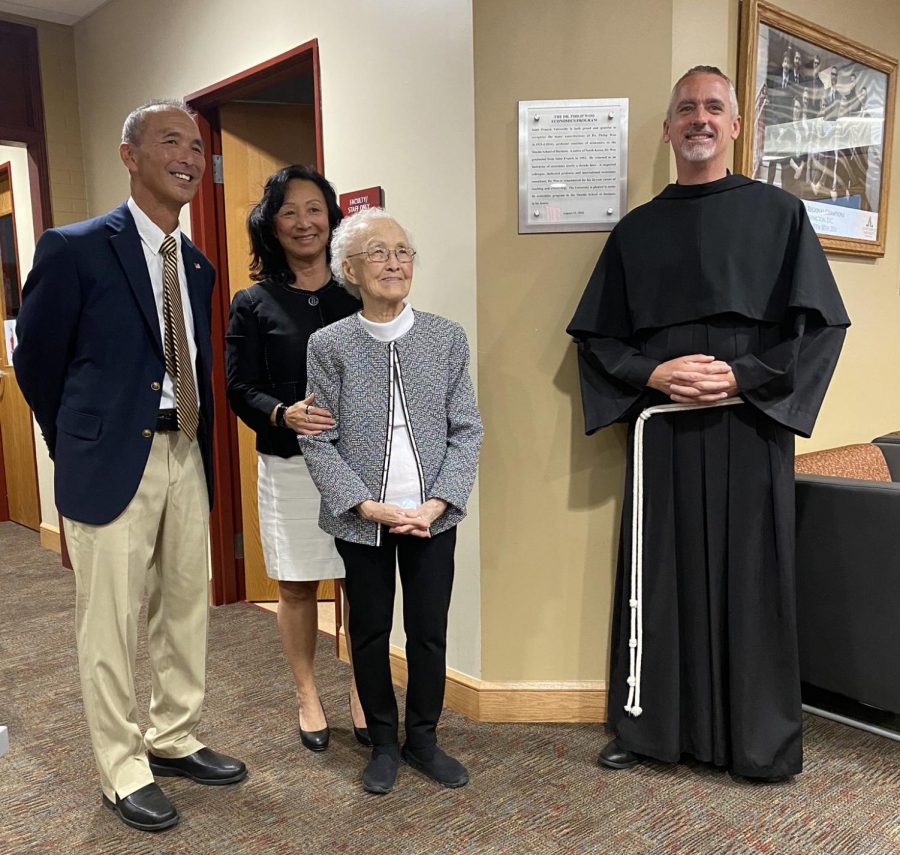 The Shields School of Business honored former faculty member Philip Woo at a ceremony on Aug. 31 by naming the school's Economics Program after him.
The Dr. Philip Woo Economics Program becomes the first "named" academic program in the SSOB. Woo was a highly respected Economics professor who taught at the school for 26 years.
Woo's family made a generous donation to the program, and members of the former Economics professor's family were in attendance at the ceremony last month. Thanks to this donation, a special endowment has been established to create a scholarship fund for business majors, with preference to students majoring in Economics.
The scholarship will also provide financial support for student research and travel expenses to conferences.
"The naming of the Economics Department in my father's name is a huge award that words cannot describe for our family," said Woo's son, Philip Woo Jr. "We are humbled and deeply proud of this honor."
A native of what is today North Korea, Woo graduated from Saint Francis with a bachelor's degree in 1952, before continuing his education at the University of Michigan (master's) and New York University (doctorate). He taught hundreds of Saint Francis students and held his pupils to very high standards.
"He loved to teach," said his son, who operates a dental practice in Ebensburg. "It reaffirms the (importance of) extremely hard work, risk-taking in getting there, faith in God, and kindness of other giving people."
Economics professor Ed Timmons appreciates Woo's legacy at the University.
"I recognize that I stand on the shoulders of a giant and legendary former SFU professor," said Timmons. "I try my best to follow the wonderful foundation laid by Dr. Woo."
Woo was hired at Saint Francis by former Business Department chair Albert Zanzuccki in 1961 and taught Economics at the school until 1987. He died in 2016.
"Economics is an essential element of a well-rounded business education," said Philip Woo Jr. "With the leadership of Dr. (Randy) Frye and Dr. Timmons, I expect the business department to continue the proud tradition set forth by my father, Dr. Zanzuccki and other countless, dedicated teachers."